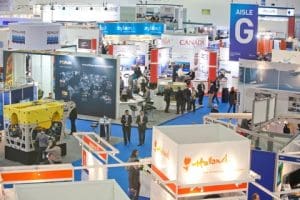 Innovation and investment are in the spotlight at Oceanology International (ExCel London, 11-13 March 2014), with the new Innovation Zone not only showcasing innovative new technology, but used as a springboard to introduce all interested to methods for getting their technology to market in the fastest and most effective way. Then this moves to the next stage when one-to-one meetings with possible investors are held for those actively seeking funding within the exploration and production (E&P) and oilfield service sector.
This is far from being a private affair – everyone attending the Oceanology International exhibition can make their way to the Innovation Zone on Tuesday 11 March for the 'Meet the Investor' workshop; and then the following day attend presentations by each of the companies behind the new 'out-of-the-box' technology.
'Meet the Investor' workshop
The Meet the Investor workshop, and subsequent pre-booked one-to-one meetings with those eager for their advice, is run in collaboration with the Oiltech Investment Network. Jessica Rouse, who manages the Network on behalf of OTM Consulting will introduce both the workshop, and the aims and objectives of the Network.
This network was established in 2010 by leading global investors in upstream oil and gas technologies to encourage the uptake of innovative products. Network members include Altira Group, BP Technology Ventures, Chevron Technology Ventures, ConocoPhillips, Energy Ventures, Investinor, Lime Rock Partners, Saudi Aramco Energy Ventures, Shell Technology Ventures, Statoil Technology Invest, and Viking Venture, between them these organisations have invested more than $1 billion in over 80 oil and gas technology companies over the past five years. The network is managed by OTM Consulting.
There will then be three presentations: Trevor Burgess, Managing Director, Lime Rock Partners will speak on 'Money doesn't grow on trees – how to fund growth with private equity'; he will be followed by Craig Watson, Partner – European Patent Attorney, HGF focussing on 'Oilfield IP – Protecting your ideas', with the final speaker being Seadhna Wilson, Principal Consultant, OTM Consulting, who takes as his topic 'Commercial success and current technology needs in the E&P sector'.
These three presentations will be followed by an Oiltech panel session 'Commercial success and current technology needs in the oil and gas sector' with Shawn Le Maitre of Statoil technology Invest, Kemal Anbarci of Chevron Technology Ventures amongst the speakers. Following a break for lunch investors and entrepreneurs will then have their pre-booked one-to-one meetings, before a review of companies within the exhibition hall leads to the Networking Reception at 17:00 until 19:00.
Innovation Zone
Those exhibiting within the Innovation Zone have risen to the challenge to showcase innovative technology that aims to meet at least some of the pre-determined criteria:
Reduce capital expenditure
Reduce downtime
Improve operational efficiency
Improve HSE
Increase production
Improve accuracy
Inspire new ways of operating
All eleven companies featured in the zone will hold presentations on Wednesday 12 March. The programme embraces:
MOST – Wave propelled USVs, designed for very long endurance autonomous scientific ocean research, commercial data gathering and defence applications.
AML Oceanographic – Modular ultra-violet biofouling technology for use on submerged sensitive/delicate surfaces: sensors, cameras, and lights.
EdgeLab s.r.l.. A smart, low-cost AUV platform integrating electronic nose/tongue for oil spills monitoring and plume tracking.
J + S Ltd 0 Acoustic arrays with Ingegrated Acoustic Sensor Technology.
Sonar Link – Underwater acoustic comms with simutaneous multiple sensor uplink data acquisition.
Geosoft – UXO target detection, mapping and analysis system from magnetic data.
Subsea Deployment Systems Installation system using small crane vessels or anchor handling.
Cairndene – Piling Shield  to reduce noise transmission by use of fully enclosed vaccumm chamber.
Integrated Power Technology Corporation – Integrated Power Technology Corporation modual distributed energy recovery system. Fleets of wind propelled craft dragging turbines.
Worley Parsons – Field mounted hydraulic telescope arm with fully flexible camera for stills or videos live or video – autonomous or manual.
Steatite Limited – Lithium Sulfur Cells/battery.
Background
Established in 1969, Oceanology International attracts those involved with all aspects of marine science and technology from all over the globe – total attendance was 7, 669 in 2012. The exhibition this year is the largest ever with the 520 exhibiting companies from over 35 countries taking an additional 10% more space than at the record-breaking 2012 event.
Visitors can also see an array of vessels dockside, including survey and windfarm support vessels and dockside demonstrations; and there is an expanding programme of associated events run by supporting organisations.
Further information on all elements of Oceanology International, and free online registration, is at www.oceanologyinternational.com
ENDS
About Oceanology International
Oceanology International is the global forum where industry, academia and government share knowledge and connect with the marine technology and ocean science community, improving their strategies for measuring, exploiting, protecting and operating in the world's oceans. Established in 1969, Oceanology International features the world's largest exhibition for marine science and technology, multiple agenda-setting technical conferences, and a visiting vessels and waterside demonstration programme.
The Oceanology International portfolio includes
Oceanology International China 2013 (held 3-5 September 2013, INTEX Shanghai, China): this launch event was developed with the local government and industry associations and provided organisations with the opportunity to capitalise on China's rapidly growing offshore energy and marine industries. The next Oceanology International China event will take place 3-5 September 2014 in Shanghai. For more details: www.oichina.com.cn/en
Oceanology International 2014 (11-13 March 2014, ExCeL London, UK): Over 550 international exhibitors and 8, 000 attendees are expected to take part in this global forum. Eight one-day conferences and three panel discussion on key industry topics will take place during the three days of the show, as well as waterside demonstrations. For more details:www.oceanologyinternational.com
Spillex (11-13 March 2014, ExCeL London, UK): Spillex is a dedicated area inside the Oceanology International 2014 exhibition hall and features the latest technology and service solutions for assessing the potential of spill related impacts, mitigating against and, if necessary, responding to them. For more details: www.oceanologyinternational.com/Spillex/
Catch the Next Wave conference (10 March 2014, London): at this international conference, now in its second year, global experts will speak about disruptive technologies and where they are emerging in the marine sector. The first Houston-based Catch the Next Wave conference will be held in Autumn 2014. For more details:  www.ctnwconference.com
Oceansp@ce: Oceansp@ce is an online and free-of-charge resource which delivers hand-picked news from the world to the marine science and ocean technology community. For more details: www.oceanspacenews.com