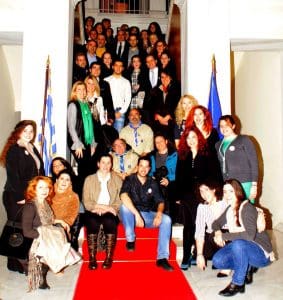 – Let's do it Greece 2013 – Let's Clean up Greece in one day! Sunday, April 6, 2014, a message from Yanna Pavlopoulou
Our country supports for the THIRD consecutive time  the «Let's Do It World», world cleanup campaign
«Let's Do It World» is a non-profit movement that first evolved in 2008 in Estonia and quickly spread internationally in 110 countries. Today it's considered the largest and fastest growing volunteer cleanup environmental campaign with the participation of 9 million volunteers (www.letsdoitworld.org). People from every part of the globe participate in the campaign by voluntarily cleaning, on one particular day, their cities, their neighbourhoods, parks, forests, seaside and seabed, rivers, lakes etc, conveying a message of change and protection of the natural and urban environment.
This campaign functions in Greece for the third consecutive time as "Let's Do It Greece 2014" www.letsdoitgreece.org/ and has been set for Sunday, April 6, 2014. Last year, 30.000 volunteers in Greece participated as individuals or through 450 organizations and NGOs, (e.g. ARXELON, ARKTOUROS, ELIX, ECOCITY) on urban, coastal, forest and even underwater cleanups. Through pure volunteer teamwork and the use of social media, the campaign is vigorously promoted in every corner of our country, motivating as many people and organizations as possible. Their main purpose is to establish in Greece a real motivating force of cooperation so that voluntary organizations, associations, schools, municipalities and businesses join forces on a clean up across the country for just one day! «Let's Do It GREECE" asks you to join them and dynamically sustain the spirit of self-organization and volunteerism (since they function under a ZERO BUDGET, ZERO PRINT policy)!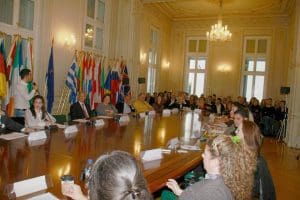 You can easily join this initiative: Just register at the official website of the campaign www.letsdoitgreece.org!
The Greek campaign is led by Dr. K. Aravossis, NTUA Professor, as chairman of the scientific liaison body HSWA (Greek Association on Solid Waste Management) together with Nikos Kiousis, leader of a youth volunteer society named TIME FOR ACTION. The Main Organizing Team coordinates 156 campaign Organizers sharing respective areas in Greece, and is further responsible for the strategic deployment of the campaign: 1) the dissemination of "Let's Do It" message through social media and online communication 2) the close cooperation with the "Let's Do It World" in the promotion of relevant actions 3) the central planning of strategic partnerships and activities and 4) the establishment of "Let's Do It Greece" as a permanent e-point on waste management and in self-organization of local community and group cleanup activities.
THEY AIM TO:
 Create a strong network of active citizens for the continuous exchange of views and ideas
 Build partnerships among environmental organizations, the educational community voluntary groups, municipalities and Regional authorities in all the Greek territory
 Prepare a comprehensive 'waste-mapping' system
 Forward the message of integrated waste management (Reduce-Reuse-Recycle) with alternative management methods
 Promote waste management best practices with creativity and originality
Their efforts already have the additional support of the Ministry of Environment (Department on Protected Areas, National Parks, and Marine Parks), the Association of Prefectures, the Ministry of Education (that will diffuse the message to all schools nationwide through the Centre for Environmental Education) the General Secretariat of
Youth (informing all local youth councils across Greece and all associated youth entities), the Scouts associations etc and have the media support of MAD TV, while they continually attract peripheral media sponsors from the whole Greece.
The Central Meeting of Organizers took place on March 12th, 2014, hosted at the Office of the European Parliament in Athens, with the participation of representatives of major supporting NGOs, as shown in the attached photos.
VOLUNTEERS MAY JOIN AT:
• https://www.facebook.com/LetsDoItGreece2014
• https://www.facebook.com/groups/315147858525334/
• https://twitter.com/letsdoitgreece
• https://www.youtube.com/user/letsdoitgreece
• http://www.letsdoitgreece.org/
LETSDOITGREECE website http://www.letsdoitgreece.org/ is enriched daily with new material and new entries. They apologize but the language used in the website remains Greek; however, nationals of all other countries are welcome to join them! Their vision is to showcase the value of the authentic spontaneous volunteerism at individual, group or company level as the positive and creative side of Greece!
SO …. SIGN UP & JOIN Let's Do It Greece !!
Let's Clean up our country on April 6th, 2014!!!
Together we can do it!
Yanna Pavlopoulou
As a Member and on behalf of the
Main Organizing Team of www.letsdoitgreece.org