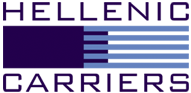 Hellenic Carriers Limited, ("Hellenic" or the "Company") (AIM: HCL),  an international provider of marine transportation services for dry bulk cargoes, today announces that it has appointed Charles Stanley
Securities as the Company's Nominated Adviser and Broker with immediate effect.
About Hellenic Carriers Limited
Hellenic  Carriers  Limited  owns  and trades through  its subsidiaries  a  fleet  of  dry  bulk  vessels that
transport iron ore,  coal,  grain,  steel products,  cement,  alumina,  and other dry bulk cargoes worldwide.
The  fleet  consists  of six  vessels,   including  one  Panamax,   two  Supramax,   one  Handymax  and  two
Kamsarmax vessels with an aggregate carrying capacity of 384, 864 dwt and a weighted average age of
10.2 years.
Hellenic Carriers is listed on the AIM of the London Stock Exchange under ticker HCL.