Learning from an early age about world trade: 10, 000 young people in UK to be helped by Institute of Export scheme,  By James Brewer
Children as young as eight are to be given a taste of the world of international trade, as part of an ambitious  initiative led by Britain's Institute of Export.
The Institute is taking to a new level its commitment to education and professional qualifications by launching a programme to spur interest among the rising generation in careers in international trade and enterprise.
Seen as first of its kind in the UK, the exercise will involve a total of 10, 000 people: ranging from youngsters of just eight, to age categories up to 30.
Workshops with the theme 'Let's take exporting seriously' will set out to enthuse participants to engage with the challenges of global trade and will begin to familiarise them with relevant skills.
The scheme is being taken to schools, colleges, universities and youth groups across Britain throughout 2014 and 2015, following successful pilot days in London. "The kids are excellent when they get the chance, " said one Institute member who saw an early trial of the scheme.
Groups totaling some 450 students are already signed up in the capital for the workshops, and there has been interest from many other regions. Law firms and other businesses are enquiring how they can take advantage of the expertise offered by the Institute.
The Institute is targeting young people as part of its campaign to support economic activity and to reduce high unemployment in the 16-24 age group in particular.
Lesley Batchelor, director general of the Institute, said: "Ensuring an understanding of – and embedding professionalism in – international trade from an early age by engaging with young people can help channel them into careers in exporting, which will continue to drive job creation and boost the economy.
"It has never been more critical for Britain to match the level of commitment to professionalism in international trade, training and education made by our European and worldwide counterparts. We can achieve this by helping young people identify and focus on appropriate skills for rewarding jobs in a worldwide market."
Experts with international business experience will run the workshops tailored to suit different ages and with a focus on wealth creation, business start-ups and employment opportunities in the UK and overseas.
For eight-year-olds, for instance, the emphasis will be on creating awareness of the origin of everyday items such as clothing and food and the means by which the goods end up in shops and homes – in a similar instructive way in which the importance of global transport is being promoted in the new Came By Ship campaign backed by WISTA-UK, part of the Women's International Shipping & Trading Association.
Some of the Institute teach-ins for secondary schools will involve pupils setting up imaginary 'pop-up shops' supposedly based in overseas cities, and challenging them to work out how they might use the shops to trade goods and manage foreign currencies.
Tony Cruttenden, the Institute's manager for international trade and enterprise, who is leading the initiative, said: "We [as a nation] seem to have forgotten where the roots of international trade are, and at the Institute we are trying to get it back. Of the many people who are unemployed, I would hazard a guess that 50% have some skills for international trade – such as languages, cultural skills and family and friend connections overseas – that they could use to help them sell."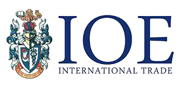 Mr Cruttenden said: "The British brand is well respected around the globe. However, we need to offer more products and services in order to reduce the trade gap between the UK and the rest of the world, and to do that we must motivate young people in two-way trade.
"Our next step to move this ground breaking initiative forward is to find investors to help with funding, resources and volunteering to take part in the workshops."
More information is at www.export.org.uk