Blue MBA candidates enjoy a room with a fabulous view for latest stage of their programme, thanks to shipmanager Frank Leonhardt
A group of some of the most go-ahead executives in the maritime business has just spent five days in what must be the perfect classroom – one with a magnificent view of the harbour at the heart of the bustling port of Hamburg – taking their management skills to new levels.
Their unforgettable experience was thanks to leading personality in German and international shipping, Frank Leonhardt.   Mr Leonhardt warmly welcomed members of the Blue MBA (Executive MBA in Shipping & Logistics at Copenhagen Business School) class of 2013-15 to the ultra-modern Hamburg headquarters of his company for an important module of the graduation course.
Leonhardt & Blumberg provided the facility, at Neumühlen 13-15, for some top quality tutoring for what is known as Module 4 of the Blue MBA. The elegant premises were described by one of the visitors as "absolutely incredible and breath-taking. As you sit in the classroom, you see the vessels going back and forth in the Elbe."
In fact the waterfront venue is described in its promotional material as "the Elbe at your fingertips." Typical of the integrated planning of the Hanseatic city, in the immediate vicinity are bars, cafes and restaurants, and the Övelgönne harbour museum with its display of old ships. The setting includes the pleasant Heinepark, named after the banker Salomon Heine who in 1812 acquired its estate.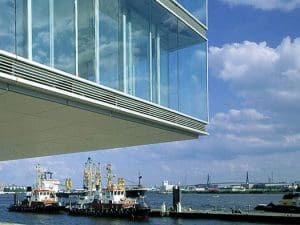 Inside the five-floor Neumühlen building the latest conference technology was available; while its expanses of glass enabled the Blue MBA party, relaxing their eyes from study sessions, to enjoy panoramic river views.
Irene Rosberg, Blue MBA programme director, said later: "We appreciated very much the generous opportunity afforded us by Mr Leonhardt to carry out part of our programme in this wonderful setting.
"He has been a fantastic host to our programme in Hamburg, and was kind enough to come to join us during the breaks to get acquainted with the participants and share his vast experience with them."
Ms Rosberg continued: "Mr Leonhardt belongs to a company which has served the industry for more than 110 years. He is from a generation of shipping folk whose passion has led this industry forward."
Mr Leonhardt heads the family-owned shipmanagement company which was founded by his grandfather in 1903. Leonhardt & Blumberg manages at present 41 containerships, of between 1, 500 and 3, 500 teu, which are employed under time-charter contracts with liner companies in worldwide trades.
For many years Mr Leonhardt was president of the German Shipowners' Association, and he is a board member of the International Chamber of Shipping.
The first two and a half days for the Blue MBA participants in Hamburg centred on ship design, and the second portion was devoted to maritime law.
In the first section, the role of ship design as a response to perceived or estimated market needs was under close consideration. The team looked at how design is influenced by specific transport requirements, new technologies, changing world politics, new strategies and lessons from previous ship designs. They saw how this should fit in with vital factors of competitiveness, seeking optimum balance between investment and operational costs, position within target markets and technical and operational innovations.
The second gave emphasis to issues of maritime law relevant to a shipping manager, as affecting charter parties, liabilities, tax issues, joint ventures and so on. The aim was to impart to such professionals sufficient insight into legal issues to facilitate discussions with maritime lawyers.
The module encompasses the regulatory regime in shipping, and international political lobbying mechanisms, including approaches to EU competition law.
The Blue MBA is a part-time course which with the support of top-level tutors and guest lecturers seeks to give the rising generation of industry leaders a thorough grounding in maritime business strategy, finance and practical application of knowledge.