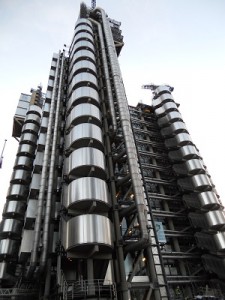 Thu 01 May 2014 –  Last week risk managers from across Europe visited Lloyd's to better understand how to access the Lloyd's and London market's expertise and underwriting capacity in order to effectively manage and transfer their companies' risks. (source: Lloyd's of London)
Between 24 and 25 April, 24 risk managers from ten European countries attended their first sessions of the 2014 FERMA/Lloyd's Professional Development Programme for Risk Managers in London.
The programme, comprising three, two day sessions over the course of a year, is a mix of practical and interactive sessions on topics covering: Lloyd's and the London insurance market, risk management, exposure management, performance management, international markets, emerging risks, the international regulatory context and claims management.
Benno Reischel, Lloyd's Head of Europe, who coordinates the programme said: "This is the second programme we are conducting and its popularity has grown since its first launch in 2012. I am delighted that this time, 24 risk managers from ten countries including the UK, have attended the first part of this high level six day programme.
"Feedback, again, was excellent and the delegates confirmed that our practical hands-on approach to shadowing brokers and underwriters in the room will give them more confidence to insure their company's risks with Lloyd's and to better understand and use the Lloyd's broker network."
The next part of the programme will take place in October and will focus on all aspects of risk and performance management. The programme's final sessions on international markets, regulatory topics and claims management will take place in April 2015.
To find out more about the programme please contact Benno Reischel.