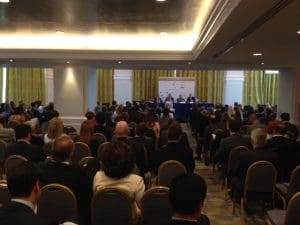 Speculation gets squeezed out of boxship market — a view from Posidonia,  By James Brewer
Structural change in the containership market heralds better times ahead, the Capital Link Shipping Forum heard.
Many of the owning partnerships which fuelled the ordering boom "do not exist as they used to, " said George Youroukos, founder and managing director of Technomar Shipping.
With some 60% of German limited partnerships – known as KG ventures — in liquidation, the container sector now contained mostly financially healthy owners, unlike the "bubble years, " he said.
Speaking during Posidonia week, Mr Youroukos said that there were now very few shipowners who could order a substantial number of ships, as the KG partnerships did. Smart money would not invest in a high market, so when the market improves, private equity would stop ordering.
"The recovery will be sustainable.  Most of the companies that did speculative ordering are no longer here."
The Technomar head added that "slow steaming is here to stay… for ever."
Irakis Prokopakis of Danaos Corp foresaw "ordering, yes; heavy ordering, no." When the big Maersk ships were ordered, the rest of the sector had to reduce unit costs and go for economies of scale. "That is a vicious circle.  The only way… to see some stability is to stop ordering."
Mr Youroukos advanced a new argument in the scenario for a stronger freight market for boxships. He said that ports in West Africa and South America were not ready for the big ships. Such ports had the cranes to handle arrivals, but lacke te infrastructure to move goods efficiently from the ports. "We have seen a few major operators in South America having schedule problems. The ships stay in port too long. This is going o create demand for more ships. This is going to be a new fact that nobody has taken into account, because until now there were no ships being deployed in such ports.  We are seeing the first signs of what is going to happen."
Panellists were asked by Anthony Argyropoulos of Seaborne Capital Advisors if they felt panamaxes were becoming obsolete.
Aristides Pittas, chairman and chief executive of Euroseas acknowledged that around 55 such ships had been scrapped so far in 2014, and the forecast for the year as a whole was 500, 000 teu to be demolished.  Last year 450, 000 teu was disposed of.  He warned though: "I do not think we shall see a solution to the problem by scrapping, becuse the fleet is young.  The market will improve, but not to a scale where you are going to see huge returns."
Mr Youroukos said that a big percentage of the idled fleet was not in a fit state to be reactivated, regardless of the market.  He believed that there were great opportunities in the secondhand sales market, and "I would go for the smaller ships, or small post-panamax."