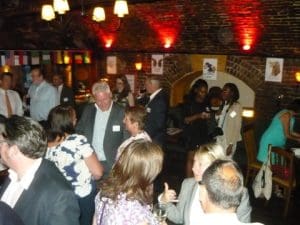 At the Back Bar of the historic and internationally known "The Minories Pub", off Tower Hill, under the rail bridge, the International Underwriting Association's* Summer Party earlier on this evening was a great success! Over 150 attended this get-together annual event, a reward for the Associations' team-work through-out the year! Deborah Finch choice, team work within her department and collaboration with Farida Bedda contributed and produced a great evening; John Faraclas was there with his camera…
I was a bit late on arrival due to commuting disarray… but well rewarded with a great welcome smile from Burcin Bedford, one of our hosts events members, directing me also to the venue area. A very warm, a very cordial atmosphere, a full house and all around the bar the …recapitulation of the year that has gone by, was taking place – intense networking too….
The variety of the entertainment events the IUA introduces each year during their Summer Party is endless, a repeat though of some of the past's entertainment gigs experienced in the previous years, very thoughtful! Whacky Races, Tarot card reading, David Redfearn the Mad Hatter was there too, and a special the special IUA's quiz, as always to restart our memory…greatly contributed to the event's success. The winner of the quiz Neale Etheridge of Swiss Re!
After a couple of drinks with The Nautical Institute's trio, I took my turn for the Tarot Card reading , which I have missed last year due to the great demand – remember…** Behind an All Stars paravan-flag, Barbara, the tarot reader did the …rituals, reminding me a few things known from the past, but, repeat but, she found also a few interesting things/points that I must have always on my mind for the rest of my life; she's highly recommended!
The food was great and its selection matched the hot weather we experience in London lately. Interestingly there were a lot of non-alcoholic drinks, greatly assisting my exclusion from alcohol due to my right-knee treatment.  For me, being in this place, it was as if going back to my past, as my first shipping company's London premises where around the corner on The Minories, Ibex House to be precise and during my visits there we used to dine and have our drinks , here at the Minories Pub – 37 years ago!
The Whacky Races was a real experience and I am sure next year I will have a go; after all, Anny Zade, my partner in life that you all know from being also in our site, is an ex-rally co-driver and an enthusiast too of these games… And the winners: Mark Banham (AXA), Adam Cartlidge (RSA) and Rachel Miller (Nautical Institute).
See you next year; enjoy your summer vacation!
* The International Underwriting  Association (IUA) is the world's  largest representative organisation for international and wholesale insurance and reinsurance companies. It was formed in 1998 through the merger of London International  Insurance and Reinsurance Association (LIRMA) and the Institute of London Underwriters (ILU). Its mission is to promote and enhance the business environment for international insurance and reinsurance companies operating in or through London.
** https://allaboutshipping.co.uk/2013/07/06/the-iua-summer-party/