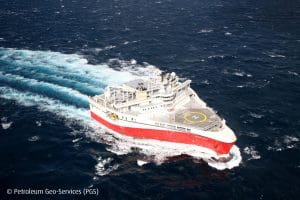 Norway, 10 July, 2014 – GAC Group has signed a frame agreement for ship agency with Norwegian seismic company Petroleum Geo-Services (PGS) for their oil & gas exploration activities globally.
Under the agreement, GAC will provide support for vessels chartered and owned by PGS calling at ports worldwide.
"GAC has supported PGS with ship agency services since the company was founded in 1991. As both our businesses have extended their global reach, we've seen that partnership develop and strengthen. It's one of GAC's key business strategies to build long term relationships, and this is a prime example, " says Herman Jorgensen, General Manager of GAC Norway. "GAC's overall approach to delivering an integrated package of shipping, logistics and marine services, supported by its strong commitment to safety and security, experienced staff and extensive national and global coverage, were all contributing factors in securing this latest agreement with PGS."
PGS is one of several major exploration companies supported by GAC globally.
About GAC Group
GAC is a global provider of integrated shipping, logistics and marine services. Emphasising world-class performance, a long-term approach, innovation, ethics and a strong human touch, GAC delivers a flexible and value-adding portfolio to help customers achieve their strategic goals.
Established since 1956, GAC employs over 10, 000 people in more than 300 offices worldwide.
"Jo"