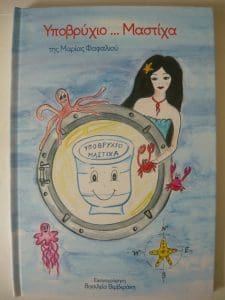 Just before boarding Blue Star Ferries' "Nissos Patmos" yesterday for the return trip to Piraeus, due to her late arrival, we** had half an hour to do the last minute shopping from the famous mastihashop at the centre of the port of Chios. Mastic liquors, sweets, cereals with figs flavoured with mastiha oil, shortbread cookies with camomile, shortbread cookies with almonds and mastiha oils, chewing-gams, wines, mastiha toothpaste, mastiha  body creams, the famous mastiha submarine sweet and other gifts for family and friends in Athens and London, we were given by Marialena Kavoura, the Marketing Manageress of Mediterra S.A., who run the mastihashops, an exceptional short-stories book dedicated for the children of our Seafarers: Submarine…Mastiha!
"Submarine…Mastiha", is written, coincidentally by a relative, Maria M. Fafalios, who "encountered" a little monster when she was young; the little monster gave her a gift, a crystal ball to enable Maria see through and travel to imaginative lands and oceans. Once she found herself at an orchard  a ripe orange told her a story for  "A sweet-sour love". She then travelled at the sea-bottom and met the "Submarine Mastiha" and she told her its encounters… Maria writes stories for her children and her friends. She lives happily with her family, loves travelling, and adores summers and winters…
A great book with meticulously special designed illustrations on par with the text by Vasselia Ververaki, a graphic designer. For sure the Greek Government, any Greek Government member, all members of the Greek Parliament should read this book and see what is missing in their plans and political programme to further develop Chios and Greece! The book is one of the many of  the mastihashop publications.
I am sure that when the book is translated into in English – and other languages, the world will clearly understand the success story of the Chiot seafarers, who become masters of the seven oceans controlling today just over five percent of the world's fleet. Add their success story in other parts of life and we are sure our… "sweet provocation" will make you visit this unique island, the jewel in the crown of the shipping world.
* To paraphrase… the title of the film: A fish… called Wanda…
** John Faraclas and Anny Zade.
N.B.: It's worth listening to the Beatles song "Yellow submarine"… Interestingly, there are many similarities…