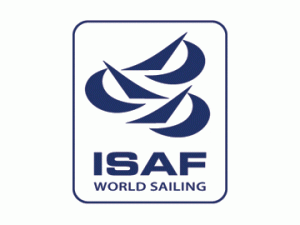 Sunday 3 August 2014 – Racing kicked off at the Aquece Rio – International Sailing Regatta 2014 with the Finn and RS:X fleets taking to two race courses on Guanabara Bay.
The day began with a press briefing that saw over 120 national and international journalists, broadcasters and photographers turn up to witness the first Rio 2016 Olympic and Paralympic Test Event first hand.
At the briefing the attendees included Rio 2016 Executive Director of Sport, Agberto Guimaraes, Rio2016 Director of Sports, Rodrigo Garcia, Rio 2016 Director of Communications, Mario Andrada, ISAF Technical Delegate Alastair Fox and London 2012 Olympic gold medallist Mat Belcher (AUS).
Initiatives to improve water quality were explained – read more here – and an outline of the event, the largest ever Olympic classes' regatta held in Brazil, was given.
During the press briefing Belcher said, "We're really excited to be here. It's the first time we've been here and we're really impressed with the venue, the organisers and what sort of event we can expect for our class.
"It's a big opportunity for the athletes to enjoy the environment, get an understanding as to what we can expect in a few years' time, the currents, geographical effects and what type of wind we can expect."
Once the briefing concluded attention turned to the racing action. A south easterly breeze coming in at 8-12 knots ensured that two races were completed in all three fleets.
Men's RS:X
London 2012 Olympic gold medallist Dorian van Rijsselberge (NED) was on scintillating form in the 28-boat Men's RS:X fleet and took both the day's race victories.
Racing on Pão de Açúcar the Dutchman read the conditions perfectly to lead Byron Kokkalanis (GRE) who sits second on five points following a 2-3.
On the course the Dutchman said, "We were on one of the inside courses and close to Flamengo Beach. There's a little bit more breeze towards the middle of the bay so I just tried to find the breeze and go fast.
"It's not too crazy. The wind was light'ish so it was tricky but still fun and plenty of opportunities.
"You have to put a lot of work into racing. There's a lot of pumping but once you pump it pays off if you go the right way so it's key."
With 28 racers on the water it's not far off the Rio 2016 Olympic Sailing Competition fleet size. In two years' time 36 racers will take to water and van Rijsselberge is enjoying the similarities, "We have a really nice fleet here. That's the biggest plus. Everybody is here and it's a strong field. I think it's a really good test. We have the top ten from the last World Championship so it's a high quality. That shows that everybody wants to see how it is and try to get the best out of it."
Rio de Janeiro provides a beautiful backdrop to the fleets and the Dutchman enjoys his surroundings, "It's nice to have two big monuments here. The Sugarloaf is a little bit in the way, it stops the breeze, " smiled Van Rijsselberge. "But it's interesting and we're enjoying it. The scenery is really nice."
Women's RS:X
Charline Picon (FRA) imitated Dorian van Rijsselberge's (NED) performance by taking both bullets in the Women's RS:X.
Picon has Rio experience under her belt and used the information she's gathered on the opening day to lead Maayan Davidovich (ISR) by three points.
"The first race I had a very bad start but I finished first so I'm very happy, " beamed Picon. "I had a good downwind and good tactics. In the second I didn't have a good start but I had a good battle at the top and finished second behind Marina [Alabau].
"We've had a good time here and came here last year and we were here in the winter and it's very pleasant for competing. It's nice to have Sugarloaf and everything around us."
Brazil's Patricia Freitas recorded two fourth places and is third overall on eight points.
Finn
Brazil's Jorge Zarif used his knowledge of Guanabara Bay to his advantage on the opening day of Finn racing as he took a bullet and a second.
The 21-year-old first took to the bay when he was seven years and having trained regularly inside and outside of the bay he came to the forefront on the opening day.
"It was a good day, " said Zarif, 2013 Finn World Champion. "I've sailed here since I was seven in the Optimist but seriously I've been training here a lot for the last four or five years. Especially in the Naval School Course because it's the one we will use more but we always sail by the bridge and outside."
Seventeen Finns will mix up racing on the Ponte course which is inside the bay and Niteroi, outside of the bay. Rio 2016 will see 23 take to water and Zarif is relishing racing in conditions that will be present in 2016, "I like the fleet size because the Olympics will be like this. It's close to what we will have and normally I don't have good starts in big fleets so for me it's better to have fewer boats."
Ed Wright (GBR) sits second overall on six points with Race 2 winner Giles Scott (GBR) third overall.
Racing in the Finn and RS:X resumes on 4 August at 13:00 whilst the remaining seven fleets kick off racing. All five race courses will be used on the second day of racing.
Media coverage and results from the Aquece Rio will be delivered by the Rio 2016 team and ISAF through www.aquecerio.com/en/competicoes.php and http://www.sailing.org/2014-test-event.php
Follow Event Website
www.aquecerio.com/en/competicoes.php
ISAF Regatta Page
http://www.sailing.org/2014-test-event.php
About The International Sailing Federation
The International Sailing Federation (ISAF) is the world governing body for the sport of sailing.
ISAF is made up of 140 Member National Authorities (MNAs), who are its principal members, and responsible for the decision making process that governs the sailing world.
There are currently more than 100 ISAF Class Associations, ranging from the small dinghy classes for young people up to 60 foot ocean racers.
Sailing
Sailing is a lifetime sport enjoyed right across the world.
The sport encompasses a massive range of disciplines and events including Olympic sailing, offshore sailing, windsurfing, match racing, team racing, fleet racing and disabled sailing.