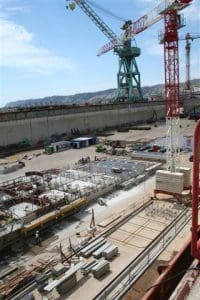 6 August 2014 – Port news from Marseilles Fos – The Marseilles Fos port authority is targeting mid-2015 to complete the €28 million renovation of its giant drydock 10 to provide a strategically located base for cruise ship repair and maintenance.
At 465 metres long and 85m wide – the third biggest in the world after Lisbon and Dubai – the drydock will offer a unique facility for the latest-generation fleet in the Mediterranean, where 65% of the world's largest cruise vessels operate.  These include ships of up to 360m that currently call at Marseilles.
Repair operations will be carried out under a 25-year franchise awarded to a group featuring San Giorgio del Porto of Italy, the Mediterranean's largest shiprepairer.
Drydock 10 opened in 1975 to repair supertankers – Marseilles Fos is among the global top ten oil ports – but came out of this service in 2000 as the VLCC repair market shifted east.  Since then Marseilles has become the leading cruise port in France.  Last year the port handled 454 cruise calls by 76 ships from 38 companies, with passenger numbers rising by 31% to a record 1.17 million.  Home port passengers rose 17% to 365, 000 – a 30% proportion that is heading for 45% from now on.        
In 2011 the port authority responded to this fast-emerging market and lack of large repair centres by agreeing a major overhaul of its biggest drydock.  The main element is the construction of a new dock gate representing €13.35 million of the total cost.  Other phases include refurbishment of the pumps, electrical power system and equipment.  After more than two years of preparatory study and design, the work started early this year and is due for completion next June.
The 9, 100 tonne gate has been designed for a 50-year lifespan and will be 87.5m long, 15m wide and 13m high.  Design, construction and commissioning of the gate, together with project management, was awarded to a group led by French civil engineers Spie batignolles TPCI.  The group includes design and structural studies leader Setec TPI and its subsidiary Hydratec, maritime works specialist EJN Negri, pumps and pipework firm Cofely Ineo and equipment sub-contractor Delta Techniques.
The operating franchise was signed in June 2013 by San Giorgio, its subsidiary Chantier Naval de Marseille (CNM) and Mariotti, the world's fourth largest cruise ship builder.  The group also has a commercial agreement with the STX France yard in Saint Nazaire.  CNM already operates two smaller drydocks up to 320m long and the port has six further drydocks up to 171m long serving the workboat and yacht sectors.