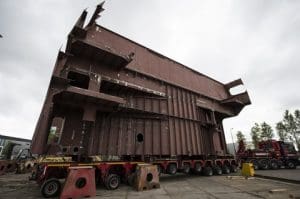 Looking back on the retrofit of two antiroll tanks onto GulfMark UK's 'Highland Defender' and 'Highland Guardian', the rapid response, along with the ratio of 150 tonnes of steel deployed and processed relative to the contract's limited total lead-time, is a great accomplishment. This, and the considerable production speed, is what Shipdock Amsterdam is most proud of in concluding this project.
In consideration of the fact that all work, from scratch, was carried out within one single location as a complete turnkey package by two Damen Shipyards subsidiaries, is a close second on the shipyard's satisfaction scale.
Whereas Niron Staal manufactured the actual antiroll tank and hull sections, the onboard installation was done by Shipdock, part of the Damen Shiprepair & Conversion division.
The entire operation required simultaneous action, from the initial steel cutting to the final installation and commissioning, with the two PSV's docked together in Shipdock's 250 metre Panamaxdrydock.
Both Damen companies involved, are located within the same shipyard premises in Amsterdam.
"The contract was completed within a six week lead-time only, from the initial steel cutting to the vessels' delivery. The lead-in time was practically zero", Flip van der Waal, managing director Shipdock Amsterdam proudly notes."Niron and Shipdock started almost upon receipt of GulfMark's steel cutting-drawings. The prefabrication part took three weeks to construct the two 75 tonne sections, painting included."
The production schedule shown below, required the vessels to dock within the yard for a period of four weeks. Overall they encountered a total of six weeks downtime only, before re-entering service.
• Order was placed at Damen Shiprepair & Conversion 12/05/14
• Drawings received by Shipdock Amsterdam 22/05/14
• Startedcutting steel 23/05/14
• Vessels docked 18/06/14
• Vessels undocked 17/07/14
• Vessels departed for sea trials 22/07/14
• Sea trials completed 23/07/14
• Vesselsarrived in Aberdeen 25/07/14
"Taking into account our high level safety standards, we especially consider the entire project span as an extraordinary achievement", Van der Waal adds.
Baffles
The 'Highland Defender' and 'Highland Guardian' main characteristics are 87 metres LOA, 3, 900 GT and 5, 100 DWT. The sister ships were built in 2013.
The antiroll tank units retrofitted to improve the vessels' roll characteristics, benefit not only the marine crew, but further enhances the operational capability of the vessels in adverse weather. Antiroll tanks are installed onto ships in order to reduce the roll motion and roll angle during adverse weather conditions. They are placed abeam so that their internal baffles slow the rate of water transfer from the port side to the starboard side. As a large amount of water is restricted on one side of the vessel, this creates an asymmetrical force that opposes the natural but significant rolling motion imparted by a heavy sea swell.
The antiroll sections were installed directly against the aft face of the vessels' accommodation. Constructed as a complete single section, extending across the entire weather deck from port to starboard side, they extend upward from B deck to the Bridge deck. The Antiroll tanks are now a seamless and fully integrated part of the ships' structure.
Retrospectively
There's no shortage of challenges to pick from when describing this assignment, short as its duration may have been.
Being familiar with Shipdock Amsterdam's performance level from several previous assignments, GulfMark UK Ltd, also commissioned the shiprepair and conversion specialist yard to complete additional work on the 'Highland Defender' and 'Highland Guardian', to further enhance the operational characteristics of two significant vessels.
"Our vessels are now even better equipped to face the harsh environments they will encounter within the operational arenas that they were designed for", Jim Bradford, GulfMark's General Manager Operations comments.
"The antiroll retrofit and the general upgrade put together, we'd like to dub this contract a retro-upgrade", Shipdock's Flip van der Waal concludes.
Damen Shipyards Group
Damen Shipyards Group operates 32 ship- and repair yards, employing 8.000 people worldwide.Damen has delivered more than 5.000 vessels in more than 100 countries and delivers approx.180 vessels annually to customers worldwide.Based on its unique, standardised ship-design concept Damen is able to guarantee consistent quality.
Damen's focus on standardisation, modular construction and keeping vessels in stock leads to short delivery times, low 'total cost of ownership', high resale value and reliable performance.Furthermore, Damen vessels are based on thorough R&D and proven technology.
Damen offers a wide range of products, including:tugs, workboats, naval and patrol vessels, high speed craft, cargo vessels, dredgers, vessels for the offshore industry, ferries, pontoons and super yachts.
For nearly all vessel types Damen offers a broad range of Services, such as maintenance, spare parts delivery, training and transfer of (shipbuilding) know-how.To complete, Damen offers a variety of marine components, especially nozzles, rudders, anchors, anchor chains and steel works.
Damen Shiprepair & Conversion
In addition to ship design and shipbuilding, Damen Shiprepair & Conversion offers a network of 15 repair & conversion yards worldwide, with dry docks ranging up to 420 x 80 metres.Conversion projects range from adapting vessels to today's requirements and regulations to the complete conversion of large offshore structures.DS&C handles 1, 500 repair and maintenance jobs annually.
"Jo"