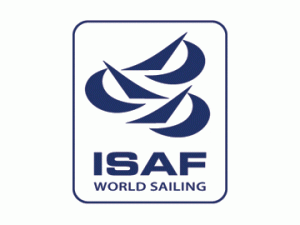 19 August 2014 – Issued on behalf of ISAF – It was a day of improvements and progression for the Byte CII sailors at the Nanjing 2014 Youth Olympic Games with two races completed in the male and female fleets.
No Techno 293 racing was possible with a light fickle breeze on their race area not reaching the required limit for the 20 boys and 21 girls to race.
A north easterly breeze went up and down throughout the day on Race Area A, where the Byte CII fleets were scheduled. A race was started early in the afternoon but was later abandoned due to light breeze. As the sailors were called ashore things started to pick up and 4-6 knots blew across the race track ensuring two races were completed in both fleets before the 18:00 deadline.
The Techno 293 racers were scheduled to race on Area B. With unstable breeze present on the course the decision to abandon was made early in the afternoon.
Byte CII Girls
2014 Byte CII World Champion Odile Van Aanholt (NED) took the lead in the Girl's Byte CII fleet following a solid day on the water.
Echoing Alexandra Dahlberg's (FIN) opening day performance Van Aanholt took double bullets and has a 15 point advantage of the Dominican Republic's Celeste Lugtmeijer.
"I did good, " smiled Van Aanholt. "I got two bullets so I am really happy. Both starts were really good and then from there I just took the right side and I was fast. I just tried to stay in the pressure and make the boat go fast and that is the key."
Whilst the racing is competitive and close, the spirit amongst the fleet is high with smiles aplenty. Great performances are acknowledge with hugs and high fives and it's an environment that is some way off the high octane, high staked world of professional sailing, "I think the atmosphere is better here, " said Van Aanholt. "Lots of us are all friends and we have fun together.
"Everyone is really good, you'll see the results aren't that consistent but everybody has good races and bad races and that shows that everyone here is really talented."
Bermuda's Cecilia Wollman put a tough opening day behind her, bouncing back to rise up the leaderboard on the second day of competition, "I got a second and fifth today. I got lots and lots of yellow flags yesterday which wasn't really very good but today I didn't get any and I had better starts so it all worked out."
Having tailored her training to suit the light winds building up to the event Wollman is enjoying the 5-6 knot breeze, "I like it here, I'm not sure if anyone else does but once you get in time with the shifts it's really easy and you can keep getting further ahead but once you've messed up it's really hard again."
Wollman competed at the 2014 ISAF Youth Sailing World Championship in advance of the Youth Olympic Games, finishing 30th. As the sole representative in Tavira, Portugal she is enjoying having a full Bermudan team alongside her back at the Youth Olympic Village, "It's fun, I actually have roommates this time. Most of the time they're sleeping when I leave and when I get back, " joked Wollman. "I've met all for the first time and now we're good friends. They've asked to come sailing with me but I'm not so sure how much of a good idea that is considering they've never been in a boat before."
Singapore's Samantha Yom had a topsy turvy day with a third and a 21st and after racing she was surprisingly downbeat, "It went really bad today. For the first race I finished third but in the second race I finished like 20th so bye bye medal chances but I'll keep fighting. I will put the race behind me and keep fighting in the days to come." The Singaporean is third overall on 31 points and with the discard coming into play after the fifth race she will lose her worst result.
Sixty nations are racing across the four fleets on Lake Jinniu, and Yom is enjoying the diversity, "I think it's interesting to be able to race with sailors from all over the world because it's a once in a lifetime experience. When we go to the worlds not all countries are represented like here at YOG and it's a fun and enjoyable experience."
Byte CII Boys
It was a day of improvements and consolidation for the 30-boat Boy's Byte CII fleet with two races completed late in the afternoon.
Pedro Correa maintained his leading role with a pair of third place finishes and has a 16 point lead over Pavle Zivanovic (CRO) and a 20 point advantage over Rodolfo Pires (BRA) in third. Behind the table topping Brazilian many of the racers improved on their opening day results and continue to thrive in the Youth Olympic Games environment.
"I did better than yesterday because I had some bad races, " said Singapore's Bernie Chin. "I am happy that I've done better and I'm just doing my best now." The Singaporean opened his event with a 21 and a 31DNF but was the top performer on the second racing day taking a bullet and a second.
"I'm happy for myself because I've done my best. It's tough to race on this lake. This is my first time here and I think that it's very shifty and people have ups and downs on this lake so everyone is doing their best for championship and fighting for medals. I just hope I can do my best for the next few days."
The Singaporean is 14th overall on 55 points but for the racer it's not all about the results with Olympic values and Olympic spirit ensuring an experience of a lifetime, "I have looked forward to YOG for a while and I am enjoying myself. I'm with my friends and socialising with my competitors and meeting new people.
"The Athletes village is very big and has many activities for us to participate in. And I look forward to participating in them some more after the event. There's cultural activities educating you on Chinese and European cultures and teaching you different techniques to help you in life."
As a heavy breeze specialist Cook Islander Joshua Ioane hasn't hit his peak in the light winds on Lake Jinniu but is fighting hard for position, "If the wind was a bit stronger I would enjoy it more, it's my favourite conditions, " smiled Ioane. "To prepare I've done some cycling and training on the water in Sydney. I was there for two weeks training. Tomorrow I'm going to do less tacks, look out for the wind gusts and pressure and adjust my systems."
Ioane is part of a eight strong delegation from the Cook Islands that includes four athletes and four officials and he was given the honour of carrying his nations flag at the Opening Ceremony. When asked how it all went the Cook Islanders eyes lit up, "That was good being flag bearer. I was proud to represent the Cook Islands and sailing. It was really good and I felt really popular. There are eight of us here and we're getting on really good, we're having fun and meeting lots of new people.
"I've met some humorous people from Tonga and seeing and hearing different languages and new countries. This is the first time I've actually experienced anything like this. There's people everywhere walking round and I'm always bumping into new friends."
Ioane is 29th overall and with plenty of races left on Lake Jinniu he will be looking to push up the pack.
Racing resumes at 11:00 local time on 20 August. Three races are scheduled for all of the fleets as they look to catch up on the schedule.
The four YOG Sailing events are:
Boy's Windsurfer – Techno 293
Girl's Windsurfer – Techno 293
Boy's One Person Dinghy – Byte CII
Girl's One Persona Dinghy – Byte CII
The YOG Sailing Competition will consist of an opening series and final race. The format will be fleet racing but slalom racing may be run for the Boy's and Girl's Windsurfers if the weather conditions are suitable.
"Jo"