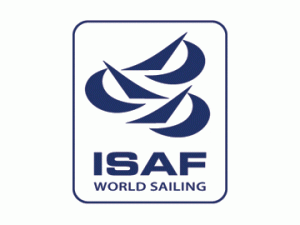 Thursday 21 August 2014 – Lake Jinniu was plagued with little to no wind on the fourth day of competition at the Nanjing 2014 Youth Olympic Games with no racing possible.
With light winds forecasted ahead of the day the hard working race committee were always facing an uphill battle and a long wait on the water for anything to materialise. With the wind not playing ball the decision to cancel the day was made at 13:15 local time.
The leader boards from the day prior remain the same with China's Linli Wu topping the billing in the Girl's Techno 293 with Russia's Maxim Tokarev atop of the pack in the boy's division.
In the Boy's Byte CII fleet Bernie Chin has a narrow advantage over Brazil's Pedro Correa with Odile Van Aanholt (NED) still in control in the Girl's Byte CII.
Many of the sailors are covered in transferable removable tattoos featuring Nanjinglele, the loveable multi coloured mascot of the Youth Olympic Games, but aiming for something a little different the day prior was Latvia's Ketija Birzule. To add to sparkling diamond earrings the Latvian had a diamond transfer near her right eye. The reason? "So I can shine on the race course. I made it yesterday when I was walking to do some exercises."
Different nationalities are mixing in the boat park, sharing stories, having a bit of banter and making the most of the experience, "It's so much fun because there are lots of people from other countries and we can speak together in English all the time, " added Birzule. "I'm really happy that I can start and race against everyone because they're all really good and it's a really good experience."
The whole YOG experience is a once in a lifetime opportunity for the 15-16 year old sailors who get to stay in the Youth Olympic Village, make new friends and engage in cultural programmes.
Another fascinating aspect of the Youth Olympic Sailing Competition is that tickets to watch the action on Lake Jinniu have sold out for every day of the competition. Like the London 2012 Olympic Sailing Competition, where 5, 000 tickets sold out, the spectator stand has been abuzz for the competition and Papua New Guinea's Teariki Numa has loved it, "This is like the second time I've had people watching me and it's a great experience to be out there and showing people what we can do.
"It's a pleasure to be here and this sort of thing only comes once in your life and we are lucky to be here at the second Youth Olympic Games. The Youth Olympic Village is like the best place and living in the village is pretty big, only the lucky people live there."
As an emerging nation athlete Numa is hoping to inspire his compatriots to grow the sport in his country, "We have around 30 people sailing. It is not really big in Papua New Guinea but we are starting to develop a bit. Next year we are going to host the Pacific Games and we are developing sailing by building new clubs and inspiring people to start sailing. I think me coming here will show people you can make it and that anything is possible."
And his future plans, "I just want to fight my way up, win something and show my people I can do it."
Racing is scheduled to resume at 11:00 local time on Friday 22 August with three races scheduled across all four fleets.
The four YOG Sailing events are:
Boy's Windsurfer – Techno 293
Girl's Windsurfer – Techno 293
Boy's One Person Dinghy – Byte CII
Girl's One Persona Dinghy – Byte CII
The YOG Sailing Competition will consist of an opening series and final race. The format will be fleet racing but slalom racing may be run for the Boy's and Girl's Windsurfers if the weather conditions are suitable.
Follow
ISAF Website
http://www.sailing.org/events/youtholympicgames/index.php
Results
http://www.sailing.org/events/youtholympicgames/results/index.php
Nanjing
http://www.nanjing2014.org/en/
About The Youth Olympic Games
The Youth Olympic Games brings 28 sports together in a unique multi-sport event for young athletes who are given a once in a lifetime opportunity to participate in high-level sporting competitions while also engaging in a Culture and Education Programme (CEP) focused on the Olympic spirit and Olympic values, skill development, well-being and healthy lifestyle, social responsibility and expression through digital media.
At the inaugural Youth Olympic Games, Singapore 2010, Ian Barrows (ISV) and Lara Vadlau (AUT) won gold on the Boys and Girls One Person Dinghy, Byte CII, whilst Mayan Rafic (ISR) and Siripon Kaewduang-Ngam (THA) took the honours in the Boys and Girls Windsurfer, Techno 293.
The same classes will be on show at the sailing event at Nanjing 2014 and will bring 101 of the finest young sailors, aged 15-16, together on Nanjing's Jinniu Lake.
For each of the four sailing events, there are seven Youth Olympic Qualification Events (YOQE). Competitors qualify their National Olympic Committee (NOC) at a YOQE, and the NOC will then select its competitor for that event by the 8 July 2014 deadline.
The seven YOQE for each event are made up of a World Championship and six Continental Qualification Events. At the Continental Qualification Events only nations within that continent will be eligible for YOG Qualification.