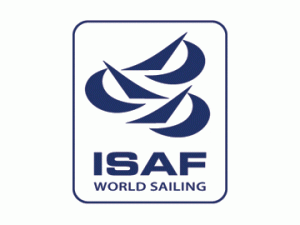 Saturday 23 August 2014 – Sunday 24 August will be used for the final races of the Nanjing 2014 Youth Olympic Sailing Competition after light wind, a freak storm and further light breeze forced a third day of postponements.
After a day of waiting for wind to materialise the breeze suddenly picked up late in the afternoon. Those on shore away from the windows could have been forgiven for thinking that was that for the day when they heard the horn sound around the sailing venue but upon looking outside a consistent breeze around 10-15 knots was blowing. As the Byte CII sailors launched things started to get a bit fruity on the water as the winds picked up and started gusting up to 30 knots.
The Race Committee did not hesitate in sending the sailors back ashore to wait for the storm to pass through and once it did, the breeze dropped considerably and the decision to cancel the day was made at 16:30.
The competition was scheduled to conclude on Saturday 23 August with a non discardable, single race for all fleets on the agenda. The pre-planned reserve day will be utilised to ensure the completion of the regatta. Sunday's outlook is positive with 4-5 knots predicted from three sources with gusts of seven, nine and even up 12 knots possible. Moderate to heavy rain is also on the forecast.
Regardless of what happens on Sunday, four new Youth Olympic champions will be crowned in the Boy's and Girl's Byte CII and Techno 293 fleets.
Racing is scheduled to commence at 11:00 local time. The Girl's Byte CII fleet will be up first followed by the Boy's Byte CII, Boy's Techno 293 and Girl's Techno 293.
China's Linli Wu is perfectly primed to take gold for her nation in the Girl's Techno 293 fleet. The Chinese sailor is seven points clear of Russia's Mariam Sekhposyan and France's Lucia Pianazza and needs to finish seventh or better to claim gold. Wu has yet to finish outside of the top seven and has mastered the light winds of Lake Jinniu so she will be hard to overthrow on the final day.
Behind Sekhposyan and Pianazza, who are tied on 16 points, Aimee Van't Hoff (NED) has 22 points and Duangkamon Phongern (THA) has 31 points. The Dutch sailor will need to put in a good performance to take a medal whilst the Thai racer would need to win the race and hope the others finish at the back of the pack.
It is all to play for in the Boy's Techno 293 with eight points separating the top seven. As it stands, Russia's Maxim Tokarev is at the top of the pack on 16 points but that will count for very little on the final day with Argentina's Francisco Saubidet Birkner a point behind and Dutch sailor Lars van Someren on 19 points.
Israel's Yoav Omer sits on 22, France's Tom Monnet and Hong Kong's Tsz Kit Chan have 23 and New Zealand's Finn Croft has 24 points. The top racers have shared the victories over the six race period and it will be game on for gold on the final day.
Four points separates the leaders and second place in the Boy's and Girl's Byte CII. Odile van Aanholt (NED) tops the pack in the girl's whilst Bernie Chin (SIN) sits in the medal position in the boy's fleet.
The Dutch sailor leads Singapore's Samantha Yom who has worked her way up the field following a 21st in Race 4. Van Aanholt and Yom have a considerable advantage at the top of the Girl's Byte CII leader board with Italy's Carolina Albano 23 points off Van Aanholt in third.
Albano is only a point ahead of Jarian Brandes (PER) in fourth with Kateryna Gumenko (UKR), Caroline Rosmo (NOR), Nur Shazrin Mohamad Latif (MAS), Celeste Lugtmeijer (DOM) and Cecilia Wollman (BER) all in with a shot of the podium.
In the Boy's Byte CII, Chin took the lead from Pedro Correa after a solid third day of racing that saw him take a 1-5-3, the best performance of the day. Going into the last race Chin, on 33 points, has a slender lead over Correa who has 37.
Nine points splits third to ninth with Rodolfo Pires (POR), Apiwat Sringam (THA), Pavle Zivanovic (CRO), Alastair Gifford, Jonatan Vadnai (HUN), Justin Vittecoq (CAN) and Henry Marshall (USA) all in with a shout of at least bronze.
Follow
ISAF Website
http://www.sailing.org/events/youtholympicgames/index.php
Results
http://www.sailing.org/events/youtholympicgames/results/index.php
Nanjing
http://www.nanjing2014.org/en/
About The Youth Olympic Games
The Youth Olympic Games brings 28 sports together in a unique multi-sport event for young athletes who are given a once in a lifetime opportunity to participate in high-level sporting competitions while also engaging in a Culture and Education Programme (CEP) focused on the Olympic spirit and Olympic values, skill development, well-being and healthy lifestyle, social responsibility and expression through digital media.
At the inaugural Youth Olympic Games, Singapore 2010, Ian Barrows (ISV) and Lara Vadlau (AUT) won gold on the Boys and Girls One Person Dinghy, Byte CII, whilst Mayan Rafic (ISR) and Siripon Kaewduang-Ngam (THA) took the honours in the Boys and Girls Windsurfer, Techno 293.
The same classes will be on show at the sailing event at Nanjing 2014 and will bring 101 of the finest young sailors, aged 15-16, together on Nanjing's Jinniu Lake.
For each of the four sailing events, there are seven Youth Olympic Qualification Events (YOQE). Competitors qualify their National Olympic Committee (NOC) at a YOQE, and the NOC will then select its competitor for that event by the 8 July 2014 deadline.
The seven YOQE for each event are made up of a World Championship and six Continental Qualification Events. At the Continental Qualification Events only nations within that continent will be eligible for YOG Qualification.