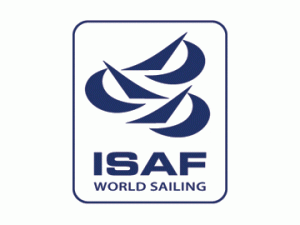 24 August 2014 – Issued on behalf of ISAF – Bernie Chin and Samantha Yom made it double gold for Singapore as they took the Boy's and Girl's Byte CII Youth Olympic Games titles in Nanjing, China.
Chin held on to his overnight lead whilst Yom advanced from second to first in a gripping final day of the Youth Olympic sailing competition.
The Byte CII fleets raced in a steady 4-5 knot breeze that was coming from an easterly direction and the tension was high in both races.
Rodolfo Pires (POR) and Jonatan Vadnai (HUN) took silver and bronze in the Boy's Byte CII whilst the female silver went to Odile van Aanholt (NED) and bronze to Jarian Brandes (PER).
Girl's Byte CII
Samantha Yom (SIN) trailed Odile van Aanholt (NED) by four points going into the final race and knew what job had to be done.
The Singaporean fought hard to put boats in between herself and her Dutch competitor. The race was up and down with positions changing throughout. In the end Yom came through in second, behind race winner Dolores Moreira (URU) whilst van Aanholt finished seventh.
Yom ends the regatta on 27 points with Van Aanholt a point behind. Jarian Brandes (PER) held onto the bronze with a fifth place finish in the deciding race.
After racing Yom said, "It was really intense but I just focused on my race and focused on what I could control and I let the rest fall into place. I knew if I did my best the results would fall into place.
"It's a once in a lifetime experience and to be able to make Singapore proud is really unique."
On the second day of racing Yom recorded a 21st place finish, which she discarded, and after the day she said, "bye bye medal chances but I'll keep fighting." She fought back hard, taking a 2-2-11-2 scoreline to complete the event. Her reply when asked about the 'bye bye medal chances' quote, "Hello medals, " she smiled. "I was a bit down after a really bad race. I told myself that, 'yea that's a really bad race but keep fighting and can only get better'."
Singapore Sailing has produced several young talented sailors and Yom is proud of the support she has received, "It's really great to know that Singapore has won two gold's. I think that Singapore Sailing Federation has given us good support and all of our good results have given us affirmation that we are on the right track and going good."
Boy's Byte CII
Ten minutes after Singapore's Samantha Yom claimed the first Youth Olympic Sailing gold, Bernie Chin added a second for his nation.
Chin took a four point lead into the final race and stayed out of trouble as he finished fifth to seal the deal.
Before hundreds of volunteers flocked to Chin for a picture, he said, "I am very happy because this is my first gold medal that I've won for the country. We are able to bring back two medals this time because at the last YOG we didn't medal but this time we are able to bring both gold's back to Singapore."
There were many possibilities in the Boy's Byte CII fleet with all the medals up for grabs and any big mistake could have been costly, "There was some stress, " said Chin, "but I knew everybody would be stressed just as much as me because every ones points were so close below so the Brazilian and Portuguese guys were just as stressed out as me and maybe even more."
Brazil's Pedro Correa came into the day in silver medal position with Portugal's Rodolfo Pires occupying the final podium spot. Anything was possible on the race track with those from second to ninth in with a medal shout.
Pires took a seventh and advanced up to silver medal position, dislodging Correa whose 14th place finish saw him drop to sixth. The Portuguese sailor was all smiles after racing, "It was a very stressful regatta. I was very stressed and there was a lot to lose and a lot to win. My coach was doing the calculations and he confirmed to me that the silver was mine and then I was happy."
Ahead of the medal ceremony Pires didn't quite know what to expect, "It will be my first time experiencing this and I don't know what will be going through my head."
Jonatan Vadnai (HUN) started the day in seventh and a fourth place in the final race pushed him up into bronze and he was relieved after racing, "I am really happy. I made a bad race in the first race but I just wanted to catch as many boats as I could and finally it ended up good. I was scared, really scared. I just tried to do as good as possible. If I finished in the top five then it wasn't up to me but I did it, so I am happy."
After a long week his celebratory plan is to, "Sleep. I think I am going to wake up at 12, eat as much as I want and gain some weight as I am going to Santander now."
"Jo"