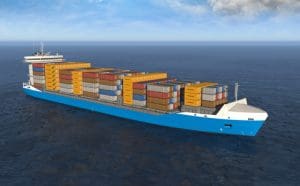 8 September 2014 – A series of new 1400 TEU container vessels being built for GNS Shipping GmbH & Co KG managed by Nordic Hamburg, will feature 7-cylinder Wärtsilä RT-flex50DF dual-fuel 2-stroke main engines. The ships are being built at the Yangzhou Guoyu Shipbuilding yard in China, and are expected to be in operation during the latter part of 2016. They will operate on a long term charter contract for Containerships OY of Finland. The Wärtsilä contract was signed in August.
Firm orders have been made for four vessels and more ships are likely to be built as part of the same series. The selection of the new Wärtsilä RT-flex50DF engine is significant as it means that these ships will be the first container ships to use Wärtsilä's 2-stroke, low pressure, dual-fuel technology. When introduced last year, this technology was hailed as being the 'game-changer' for the marine industry because of its innovative features and the fact that it makes gas fuel operation potentially possible for virtually all vessel types. When operating in gas mode, the engine meets the IMO's Tier III regulations without need of any secondary exhaust cleaning systems.
"When our 2-stroke, low pressure, DF technology was introduced we knew that we had gone beyond merely extending our DF engine portfolio. This is an engine that really makes a positive difference to the global shipping sector. It not only meets the Tier III requirements when operating with gas fuel, but it also offers considerable CAPEX and OPEX savings. It is truly an engine that fits the needs of today's market, " says Rolf Stiefel, Director, 2 Stroke Sales, Wärtsilä Ship Power.
Nordic Hamburg and GNS Shipping are established customers of Wärtsilä with a number of vessels already utilising Wärtsilä solutions.
"When we selected the engines we looked at two factors; the economics and the environmental footprint. On both counts we found the Wärtsilä RT-flex DF type engine to be the best solution for the specific vessels and trade patterns. We are confident that the LNG concept pioneered together with Wärtsilä for these feeder container vessels will make a difference to the container trade in Europe, and will remind people that shipping is an innovative industry with the smallest possible ecological footprint when it comes to the transport of goods." Says Dr. Rowil Ponta, Managing Partner of Nordic Hamburg Group
The Wärtsilä RT-flex50DF engine
The technology behind this engine enables the low pressure, dual-fuel benefits that are already available to 4-stroke engines, to be applied to 2-stroke engines as well. It means that this technology is now available to the broader merchant shipping market, along with the dual economic and environmental advantages that it offers.
On the environmental side, the overwhelmingly important benefit is that Wärtsilä's unique low pressure DF engine is NOx compliant with the IMO's Tier III regulations without secondary measures. There are no sulphur emissions and close to zero particulate emissions, while the pilot fuel consumption is extremely low at just one per cent of the fuel used. Furthermore, the technology enables LNG fuel to be used at all engine loads, so there is no need to switch to diesel at low loads – when manoeuvring or in port – as is the case with other DF technologies. This has an obvious impact on the vessel's exhaust emissions, as well as on operating costs.
In addition to the environmental benefits, there are also related economic advantages. The primary advantage is that because in gas mode these engines are Tier III compliant, there are no investments needed in exhaust gas cleaning systems to comply with the upcoming IMO emission regulations for ECA areas. Another advantage is that, due to its low operating gas pressure of max 16 bar, the LNG gas handling system onboard the vessels is far simpler and less expensive than that of alternative technologies.
Thus, Wärtsilä's low pressure gas engine technologies and the associated systems deliver the smallest ecological footprint, with low consumptions of energy, space and resources, and the least production of emissions.
Welcome to visit Wärtsilä at the stand in Hall A4, Booth 305 at the SMM conference and exhibition in Hamburg, Germany.
"Jo"