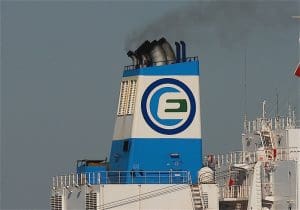 ANTWERP, Belgium, 8 September 2014 – Euronav NV (Euronext Brussels: EURN), or
Euronav, today announces that it filed a Registration Statement on Form F-1 with the U.S.  Securities and Exchange Commission for a proposed initial public offering of its ordinary shares in the United States of America.
The Company's ordinary shares are currently listed on Euronext Brussels. An application
has been made to also list the ordinary shares that will be offered in connection with the F-1 on the New York Stock Exchange under the symbol "EURN."
Deutsche Bank Securities, Citigroup, J.P. Morgan and Morgan Stanley are acting as joint
book-running managers and as representatives of the underwriters for the proposed initial
public offering in the United States.
The registration statement has been filed with the U.S. Securities and Exchange
Commission but has not yet become effective. These securities may not be sold nor may
offers to buy be accepted prior to the time the registration statement becomes effective.
This press release does not constitute an offer to sell or a solicitation of an offer to buy, nor
shall there be any sale of these securities in any state or jurisdiction in which such an offer,
solicitation or sale would be unlawful prior to registration or qualification under the
securities laws of any such state or jurisdiction.
The offering will be made only by means of a prospectus. When available, copies of the
preliminary prospectus related to the initial public offering in the United States may be
obtained from:
Deutsche Bank Securities, Inc.
Attention: Prospectus Group
60 Wall Street
New York
NY 10005-2386
United States of America
or by calling +1 (800) 503-4611
or by email: prospectus.cpdg@db.com
Citigroup Global Markets Inc.
c/o Broadridge Financial Solutions
1155 Long Island Avenue
Edgewood
NY 11717
United States of America
or by calling +1 (800) 831-9146