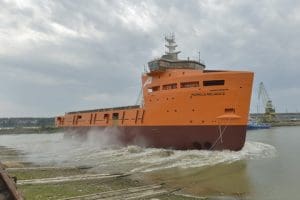 Offshore ship manager PROMAR recently marked a milestone with the sideways launch into the Danube of the first of its two Damen PSV 3300s on order. On delivery in February 2015, the Swiss company believes the 80-metre Mamola Reliance will give them a valuable competitive edge in the West African oil and gas market.
On 4 September Damen Shipyards Galati launched the PSV 3300 Mamola Reliance at an official ceremony at the yard in Romania. Damen platform supply vessels have become a familiar sight on the Danube since Damen introduced its range of high specification designs up to 6, 300 deadweight tonnes.
West Africa competitive edge
In particular, the offshore market has responded enthusiastically to Damen's PSV 3300, which PROMAR's Chartering Supervisor Olivier Meynis de Paulin describes as modern, reliable and at the forefront of technology.
The innovative and ambitious Swiss company expects to gain a valuable competitive edge in the West African market by employing these North Sea standard offshore vessels in the region, Mr Meynis de Paulin explains. "In addition, the design and the level of comfort proposed by these vessels are definitely an important advantage."
Point of pride and on schedule
Andrea Trevisan, Damen Regional Sales Manager North, West and South Europe says the Mamola Reliance launching is a true milestone and a beautiful moment for all persons involved in this project. During the ceremony many families of workers attended as well as local schools – all extremely proud of what has been built in this world-class shipyard.
"A side launching at Damen Shipyard Galati is something spectacular to experience which I would recommend to anyone passionate about shipping. I would like to congratulate our customer, PROMAR, but also all my colleagues in Galati, at Damen's headquarters in the Netherlands and of course our suppliers for making such a milestone happen in a perfect time schedule."
Seakeeping crucial in offshore market
The Mamola Reliance makes a striking figure on the Danube with PROMAR colours and the unique PSV 3300 design.
"You can see it from miles away that she is a Damen vessel with her slender silhouette, " Mr Trevisan emphasises. "The Captains sailing on the PSV 3300s presently in operations have stated that this is the best platform supply vessel they have been sailing on thanks to the outstanding seakeeping behaviour. This is crucial in the offshore market. Crews and engineers from the oil majors want to work on such a vessel, they know it is safe, with a high level of comfort."
Tailored to client specifications
Damen has incorporated several client specifications in the newbuild vessel, such as Fire-Fighting Ship 1, ROV preparations, oil spill detection radar and a tank heating system, notes Mr Trevisan.
PROMAR's second PSV 3300, Mamola Defender, is scheduled for delivery in August 2015.
About PROMAR
PROMAR established its headquarters in Switzerland in 2002. Currently it has a fleet of Multi-Purpose Supply Vessels and Fast Crew Boats under management, which serve the global offshore marine industry. The company covers all ship management competencies and has a presence in Africa, Europe and the Middle East, providing top quality services to meet the highest standards of oil majors and
subcontractors. Marine safety and safe working practises are always vitally important to the company, stresses Mr Meynis de Paulin. Its first representative office was opened in Congo in 2010, followed by Gabon and Angola.
Damen Shipyards Group
Damen Shipyards Group operates 32 ship- and repair yards, employing 8, 000 people worldwide.Damen has delivered more than 5, 000 vessels in more than 100 countries and delivers approximately180 vessels annually to customers worldwide.Based on its unique, standardised ship design concept Damen is able to guarantee consistent quality.
Damen's focus on standardisation, modular construction and keeping vessels in stock leads to short delivery times, low 'total cost of ownership', high resale value and reliable performance.Furthermore, Damen vessels are based on thorough R&D and proven technology.
Damen offers a wide range of products, including:tugs, workboats, naval and patrol vessels, high-speed craft, cargo vessels, dredgers, vessels for the offshore industry, ferries, pontoons and super yachts.
For nearly all vessel types Damen offers a broad range of services, such as maintenance, spare parts delivery, training and transfer of (shipbuilding) know-how. Finally, Damen offers a variety of marine components, especially nozzles, (flap-type) rudders, steering gear, anchors, anchor chains and steel works.
Damen Shiprepair & Conversion
In addition to ship design and shipbuilding, Damen Shiprepair & Conversion offers a network of 16 repair and conversion yards worldwide, with dry docks ranging up to 420 x 80 metres.Conversion projects range from adapting vessels to meet today's requirements and regulations to the complete conversion of large offshore structures.DS&C handles 1, 500 repair and maintenance jobs annually.
"Jo"