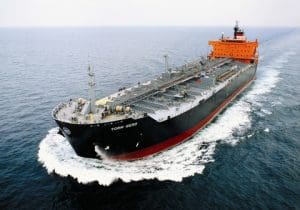 TORM contracts Albwardy for diving services
Service Level Agreement Contract signed at SMM, Hamburg
Danish product tanker carrier TORM A/S and UAE-based Albwardy Marine Engineering (AME), an Albwardy-Damen JV, have signed a Service Level Agreement for diving services in the UAE region. The purpose is to further strengthen their relations and respective commercial reliability. The diving services will be handled from AME's facilities in Fujairah and include full hull cleanings and propeller polishing.
Marcel van de Kreke, AME's Head of Sales & Marketing comments: "This agreement is a sign that reputed companies like TORM – a leading global player within the tanker segment- find confidence in our professional services."
Allan Rasmussen, Head of TORM's Energy Efficiency & Innovation team comments: "This agreement signifies TORM's continued commitment to operating our vessels in the most efficient and safe manner. In line with our business principles, we believe that efficiency and quality assurance is key to maintaining our strong market position."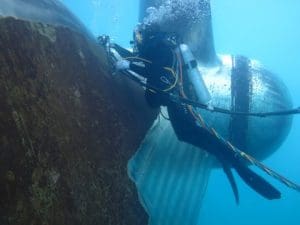 TORM is one of the world's leading carriers of refined oil products as well as a player in the dry bulk market. The Company operates a large and modern fleet with a strong commitment to Safety, Environmental Responsibility and Customer Service.
Albwardy Marine Engineering (joint venture partner of Damen Shipyards group) provides a complete package of professional ship repairs, shipbuilding, diving services in addition to offshore rig repairs & conversions from their bases in Dubai, Fujairah and Sharjah.
Damen Shipyards Group
Damen Shipyards Group operates 32 ship- and repair yards, employing 8, 000 people worldwide. Damen has delivered more than 5, 000 vessels in more than 100 countries and delivers approximately 180 vessels annually to customers worldwide. Based on its unique, standardised ship design concept Damen is able to guarantee consistent quality.
Damen's focus on standardisation, modular construction and keeping vessels in stock leads to short delivery times, low 'total cost of ownership', high resale value and reliable performance. Furthermore, Damen vessels are based on thorough R&D and proven technology.
Damen offers a wide range of products, including: tugs, workboats, naval and patrol vessels, high-speed craft, cargo vessels, dredgers, vessels for the offshore industry, ferries, pontoons and super yachts.
For nearly all vessel types Damen offers a broad range of services, such as maintenance, spare parts delivery, training and transfer of (shipbuilding) know-how. Finally, Damen offers a variety of marine components, especially nozzles, (flap-type) rudders, steering gear, anchors, anchor chains and steel works.
Damen Shiprepair & Conversion
In addition to ship design and shipbuilding, Damen Shiprepair & Conversion offers a network of 16 repair and conversion yards worldwide, with dry docks ranging up to 420 x 80 metres. Conversion projects range from adapting vessels to meet today's requirements and regulations to the complete conversion of large offshore structures. DS&C handles 1, 500 repair and maintenance jobs annually.