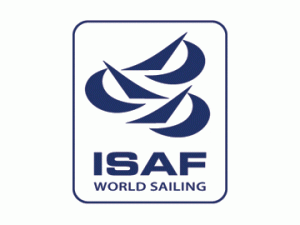 Tuesday 16 September 2014 – Two years ago at the London 2012 Olympics, Lara Vadlau secured the final nation slot for Austria and was the youngest competing helm. Heading into Rio 2016, plans are looking a bit different.
The London 2012 Olympic bug had well and truly caught Vadlau and she relished a new start for Rio 2016. That came in the shape of Poland's Jola Ogar, who also competed at London 2012, finishing 12th with helm Agnieszka Skrzypulec.
Vadlau has trodden an upwards path since the 2012 Olympic Games, where she finished at the back of the fleet and now just two years later is beating the 2012 Olympic gold and silver medallists. It was only in 2011 that Vadlau won gold in the 420 Class at the ISAF Youth Worlds, and the year before won gold in the one-person dinghy event at the inaugural Youth Olympic Games in Singapore in 2010.
Vadlau and Ogar were the headline act at this year's 470 European Championships in Athens, winning gold after a decisive race series. The team are now amongst the frontrunners to stand on the podium at the ISAF Worlds and at the forefront of Austria's Olympic medal hopes ahead of Rio 2016.
It was a chance meeting at what Vadlau described as the "losers' party" in Perth 2011, that set in motion what has become one of the most successful 470 partnerships on the circuit. At that last ISAF Sailing World Championships in Perth, Australia, the pair were sailing for their respective nations, Austria for Vadlau and Poland for Ogar. Both had qualified to the 470 Women gold fleet, but neither made it to the top Medal Race. It was a chance meeting at the commiseration beach party for the teams not in the medal race that led to the pair chatting and a friendship being sealed. As Vadlau concluded, "Sometimes you must fall to stand up."
Summing up the past two years, Vadlau said, "The last Olympics was like a dream that we could qualify and that dream came true. After London, for me it was clear that I wanted to sail with Jola and we did everything to make it happen. We had to convince our federation and convince everyone around us and we had this one year of trying. In 2013, we were vice-European and vice-World Champions, so it became pretty clear that 'those girls could win' together and yeh here we are now. Hopefully we will qualify for Rio. But that will only be a step towards Rio, nothing more."
Of the 20 nation slots in the Women's 470 event at the Rio 2016 Olympics, 10 of those will be secured at the Santander 2014 ISAF World Sailing Championships. A simple qualification process, will see the top 10 nations on the women's leader board safely in the line-up for Rio 2016. So it is highly likely the pair will be in the Olympic qualification leader board at the very least, with this their minimum target, and a podium finish the second priority on their job list.
If they achieve their Olympic qualification goal, the team are effectively assured of being selected to represent Austria at the Olympics, as there is no other 470 team able to challenge them. Lara said, "Now for us, it feels like a step towards Rio. What we have to achieve here is a minimum target. The big target for us is Rio."
Summing up her life so far in sailing, Vadlau gave a big grin before commenting, "It is an amazing life. I often think how poor would I be if I had finished school and gone immediately to study, and sit and study all the time. And now I have this amazing chance to travel around the world with Jola together and do what we love. I think I am the luckiest person on earth."
Report by Luissa Smith, International 470 Class Association
Video Feature
URL – http://youtu.be/vQ6bbBrFRAI
Embed – <iframe width="640″ height="360″ src="//www.youtube.com/embed/vQ6bbBrFRAI" frameborder="0″ allowfullscreen></iframe>
Schedule of Racing:
12-18 September, Laser and Laser Radial
13-19 September, RS:X Men and RS:X Women
14-20 September, 470 Men and 470 Women
15-21 September, 49er, 49erFX, Finn and Nacra 17
Live Blog – A live blog will follow the ISAF Worlds from Thursday 11 September through to Sunday 21 September. The live blog is available here http://www.sailing.org/events/isafworlds/live-blog.php
Results are available here.
Santander 2014 ISAF Worlds Event Website
http://www.santander2014.com/
Santander 2014 ISAF Microsite
http://www.sailing.org/2014-ISAF-Worlds.php
Images
For specific image requests please contact the ISAF Communications Department.
Results
Results are available here.
Follow
Live Tracking of gold fleet racing is scheduled to commence from 14 September through to 21 September.
2D Tracking will be available here.
3D Tracking will be available here.
Mobile
Live Tracking via the Sailviewer-3D Tablet App will be available for devices with 7" or greater screens.
Download via the Apple App Store.
Download via the Google Play Store.
Social Media
Live Blog – A live blog will follow the ISAF Worlds from Thursday 11 September through to Sunday 21 September. The live blog is available here http://www.sailing.org/events/isafworlds/live-blog.php
Facebook – Like the International Sailing Federation on Facebook here https://www.facebook.com/ISAFWorldSailing
Twitter – The @ISAFupdates Twitter account will be following the action throughout the week, follow the account here www.twitter.com/ISAFupdates.
Instagram – follow the newly launched 'isafworldsailing' account here http://instagram.com/isafworldsailing
About Santander 204 ISAF Worlds
More than 1, 250 sailors in over 900 boats from 84 nations will compete at the Santander 2014 ISAF Sailing World Championships from 8-21 September 2014. The best sailing talent will be on show and as well as world titles being awarded across ten events 50% of Rio 2016 Olympic Sailing Competition places will be won based on results in Santander. The regatta format will feature an opening qualification series and a final series with the top ten in each event proceeding to the Medal Race where the final positions will be decided.
About The International Sailing Federation
The International Sailing Federation (ISAF) is the world governing body for the sport of sailing.
ISAF is made up of 140 Member National Authorities (MNAs), who are its principal members, and responsible for the decision making process that governs the sailing world.
There are currently more than 100 ISAF Class Associations, ranging from the small dinghy classes for young people up to 60 foot ocean racers.
Sailing
Sailing is a lifetime sport enjoyed right across the world.
The sport encompasses a massive range of disciplines and events including Olympic sailing, offshore sailing, windsurfing, match racing, team racing, fleet racing and disabled sailing.