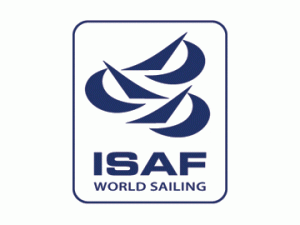 23 September 2014 – Issued on behalf of ISAF – The ISAF World Sailing Rankings for 22 September 2014 have been released.
Finn
2014 World Champion Giles Scott (GBR) rockets to the top of the Finn rankings and finally counts scores from the maximum six regattas. Previously ranked at World #14 he adds the maximum 200 points to his total and tallies a perfect line up of first place finishes to keep Sweden's Bjorn Allansson at bay at World #2. Silver medallist from the 2014 ISAF Sailing World Championships, Ivan Kljakovic Gaspic (CRO) moves up one place to World #3.
Finn North American Champion Caleb Paine (USA) posted a career best Finn World Championship result, coming in seventh in Santander and moves up three places to World #8, the highest ranked sailor who is counting points from just five regattas.
The youngest sailor in the Medal Race, Junior World Champion Anders Pedersen (NOR) sailed the regatta of his life, qualifying for his first Medal Race and securing a spot for Norway at the 2016 Olympic Games. Pedersen finished eighth overall and sees his ranking position improve by 12 places to World #16.
49erFX
It was a dramatic 49erFX Medal Race on the Duna course with just two teams fighting it out for the title – European champions Ida Marie Baad Nielsen and Marie Thusgaard Olsen (DEN) and World #1 duo Martine Sofiatti Grael and Kahena Kunze (BRA). The Danish pair got off to the best start but couldn't hold off the Brazilians and it was Grael and Kunze who claimed the gold medals and consolidate their position at the top of the ranking. Nielsen and Olsen remain at Wold #2 whilst bronze medallists Giulia Conti and Francesa Clapcich (ITA) move up seven places to Wold #3.
Just outside the medals in fourth place were Dutch pair Annemiek Bekkering and Annette Duetz who climb one place up to World #4. It was an up and down regatta for defending champions Alex Maloney and Molly Meech (NZL) who just missed out on the Medal Race cut finishing eleventh but now counting six regatta results they move up six places to World #5.
At their first World Championship together in the 49erFX, Sweden's Lisa Ericsson and Hanna Klinga finished in ninth place and see their ranking position improve by four places to World #18.
49er
Peter Burling and Blair Tuke (NZL) have a perfect ranking score in the 49er following victory at the Santander 2014 ISAF Worlds that that also extended their unbeaten run to 11 consecutive regattas (four within New Zealand and seven international events). The pair count five regattas to their ranking score and with those around them counting six, they currently sit at World #5.
Jonas Warrer and Anders Thomsen (DEN) picked up silver in Santander and therefore retain World #1 with six solid regatta scores under their belts. Warrer, Beijing 2008 Olympic gold medallist, won gold at ISAF Sailing World Cup Miami and silver at World Cup Mallorca.
Like Burling and Tuke, Nathan Outteridge and Iain Jensen (AUS) count five regattas to their point's total. They sit at World #7 following a third place in Santander.
Men's 470
After a dominant display at the ISAF Sailing World Championships, Mat Belcher and Will Ryan (AUS) retain World #1 in the Men's 470. For the pairing it was their second world championship title together but for Belcher, it was his fifth in a row, having won three with Malcolm Page in the build-up to London 2012.
Sime Fantela and Igor Marenic (CRO) and Panagiotis Mantis and Pavlos Kagialis (GRE) took silver and bronze in Santander and as a result sit at World #2 and #3 respectively.
Spain's Jordi Xammar and Joan Herp won the Men's 470 Medal Race, finishing seventh overall in Santander and as a result move up to a personal best ranking of World #17.
Women's 470
Jo Aleh and Polly Powrie (NZL) lost out on Women's 470 gold at the Santander 2014 ISAF Sailing World Championships but with a second place overall, their silver lining is moving back up to the World #1 position.
In a do or die final Women's 470 race it was a dual between the Kiwis and Austria's Lara Vadlau and Jolanta Ogar for gold. The Austrians took the lead at the first mark and never looked back, claiming a well-deserved first world championship title. As a result of winning gold the Austrians move up to World #5.
Bronze medallists Hannah Mills and Saskia Clark (GBR) count five regattas to their points total and as a result sit at World #13.
Laser
Brazil's Robert Scheidt has advanced to World #1 in the Laser after a consistent 12 months of racing that features three podium finishes and a fifth at the Santander 2014 ISAF Worlds. Tom Burton (AUS) follows Scheidt by just five points at World #2 after he took silver in Santander.
Nicholas Heiner (NED) was a class above the rest in Laser Medal Race at Santander 2014 taking victory by over minute. With results behind him in his favour the Dutchman was crowned 2014 world champion, sparking wild celebrations. Heiner sits at World #11 counting the full 200 points from Santander, a fourth and tenth at ISAF Sailing World Cup Mallorca and Hyeres, a 16th at the 2013 Laser Worlds and two silver medals from 100-point EUROSAF regattas.
Laser Radial
Marit Bouwmeester (NED) retains World #1 in the Laser Radial after taking her second world championship title at the Santander 2014 ISAF Worlds. Bouwmeester's last world title came at the 2011 edition of the ISAF Worlds as she once again proved she can mix it up on the grandest of stages.
Bouwmeester is ten points ahead of World #2 Evi Van Acker (BEL) who picked up bronze in Santander. Silver medallist Josefin Olsson (SWE) only counts five regattas in her points total and is currently ranked at World #14.
With plenty of ups and downs within the 120-boat fleet in Santander there are plenty of changes afoot across the Laser Radial rankings.
Nacra 17
Billy Besson and Marie Riou (FRA) won their second Nacra 17 world title after a dominant display at the Santander 2014 ISAF Worlds. The pair won the inaugural title in 2013 and retained it comprehensively with a day to spare in Santander.
They currently sit at World #5 counting the maximum 200-points from the Santander 2014 ISAF Worlds and ISAF Sailing World Cup Mallorca. They received 197 points from their second place at ISAF Sailing World Cup Hyeres but have only sailed at three 200-point regattas, compared to those around them who have sailed at four.
Vittorio Bissaro and Silvia Sicouri (ITA) have finished in the top four at four 200-point regattas, winning two. They retain World #1 and are followed by Darren Bundock and Nina Curtis (AUS) and Thomas Zajac and Tanja Frank (AUT).
Women's RS:X
Charline Picon (FRA) was the class act of the women's RS:X fleet at the ISAF Worlds, only once finishing a race outside the top four. Picon had secured the gold medal with a day to spare but finished off her regatta in true champion's style with a Medal Race win. Counting results from just five events, the 2014 World Champion moves up six places to World #4.
Holding on to the World #1 position is Flavia Tartaglini (ITA) ahead of Bryony Shaw (GBR) and Laura Linares (ITA) at World #2 and 3 respectively.
To the delight of the home crowd, Marina Alabau (ESP) took the silver medal. She moves up six places to World #29 with just three ranked regattas from the past 12 months to add to her points. The bronze medal went to Mayan Davidovich (ISR) who improves her ranking position by seven places to move up to World #14.
Men's RS:X
Like Picon in the Women's, Julien Bontemps (FRA) was on fire in the Men's RS:X at the ISAF Worlds. He finished 21 points ahead of Przemyslaw Miarczynski (POL) to become a two time Men's RS:X World Champion. Bontemps only counts five regattas out of a possible six to his points total and with 200 points coming his way from Santander he moves up to World #11 from World #18.
Ricardo Santos (BRA) retains World #1 whilst Poland's Piotr Myszka, who finished fourth in Santander, moves up to World #2. Men's RS:X bronze medallist Thomas Goyard (FRA) advances from World #8 to World #3, a personal best.
Events Included
For more details on the new events included and events not included in this Ranking release please click on the link below.
The full ISAF World Sailing Ranking lists, results from all ISAF Graded events, lists of Graded events throughout the year, Ranking release dates and the method of calculation for the Rankings can be found on the ISAF website at www.sailing.org/rankings
ISAF World Sailing Rankings – www.sailing.org/rankings
Santander 2014 ISAF Worlds – Race Day 10 Highlights – Part 1
49er and 49erFX Medal Race highlights.
URL – http://youtu.be/idg2D07m9jE
Embed – <iframe width="640″ height="360″ src="//www.youtube.com/embed/idg2D07m9jE" frameborder="0″ allowfullscreen></iframe>
Santander 2014 ISAF Worlds – Race Day 10 Highlights – Part 2
Finn and Nacra 17 Medal Race highlights.
URL – http://youtu.be/4tRIRuCEi7M
Embed – <iframe width="640″ height="360″ src="//www.youtube.com/embed/4tRIRuCEi7M_AlWo" frameborder="0″ allowfullscreen></iframe>
Santander 2014 ISAF Worlds – Race Day 9 Highlights – Part 1
Men's and Women's 470 Medal Race highlights.
URL – http://youtu.be/cNqM7QIuBkA
Embed – <iframe width="640″ height="360″ src="//www.youtube.com/embed/cNqM7QIuBkA" frameborder="0″ allowfullscreen></iframe>
Santander 2014 ISAF Worlds – Race Day 8 Highlights
Men's and Women's RS:X Medal Race highlights.
URL – http://youtu.be/z9aWgCUP9JI
Embed – <iframe width="640″ height="360″ src="//www.youtube.com/embed/z9aWgCUP9JI" frameborder="0″ allowfullscreen></iframe>
Santander 2014 ISAF Worlds – Race Day 7 Highlights
Laser and Laser Radial Medal Race highlights.
URL – http://youtu.be/EIIcBFGMFPM
Embed – <iframe width="640″ height="360″ src="//www.youtube.com/embed/EIIcBFGMFPM" frameborder="0″ allowfullscreen></iframe
"Jo"