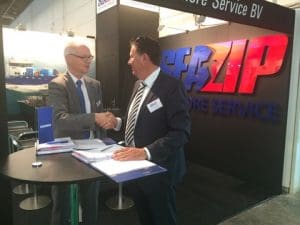 Today, Damen Shipyards and SeaZip Offshore Service strengthened their working relationship by signing another contract for two Damen Fast Crew Suppliers (FCS) 2610 at Wind Energy in Hamburg. The two new vessels, to be named SeaZip 3 and SeaZip 4, will be mobilised in transporting personnel and small quantities of freight to North Sea offshore wind farms.
The new orders follow the delivery last year of two FCS 2610 – named SeaZip 1 and SeaZip 2 – that have been performing successfully at the NordseeOst and DanTysk offshore wind farms in the German Bight. "The vessels are great performers ideal for operations and maintenance work, " says SeaZip Offshore Services Managing Director Jan ReierArends. "They are both under contract until mid-2015 showing how happy our customers are with them." The two new vessels will display certain changes to the design: "By listening to feedback from our customers, we have come up with a few innovations, " explains MrArends.
Although fundamentally of the same design, Damen has implemented the modifications to the already successful FCS 2610 formula. "We have made a number of improvements to these two vessels, " informs DamenSales Manager Roel van Eijle. "Mainly in the superstructure and a better accommodation for the passengers." Both vessels will be built at Damen Shipyards Singapore and delivered to SeaZip Offshore Service, a sister company of the JR Shipping Group, by March 2015.
With the FCS 2610 – with its Twin Axe Bow design – Damen has created a new standard in the market for offshore service vessels. The vessel offers reduced peak accelerations of up to 75%, reduced added resistance in waves of up to 60% and has already transferred maintenance crew to turbines in wave heights of 1.9 metres.
VIDEO
A short video on Seazipis available at youtube.com: https://www.youtube.com/watch?v=xq_BbqAG7qM
SeaZip Offshore Service
SeaZip Offshore Service was founded in 2010 to develop and operate service vessels aimed at the offshore wind industry. The company's fleet includes fast crew transfer vessels, service operation vessels, dive support and survey vessels. Offering a German Bight tender service as well and equipment transfer and brokerage and consulting services, the company focuses on finding smart solutions for offshore wind farms, which are built at ever-increasing distances from the coast. SeaZip Offshore Service's core values are safety, outstanding performance and customer focus.
Damen Shipyards Group
Damen Shipyards Group operates 32 ship- and repair yards, employing 8, 000 people worldwide.Damen has delivered more than 5, 000 vessels in more than 100 countries and delivers approximately180 vessels annually to customers worldwide.Based on its unique, standardised ship design concept Damen is able to guarantee consistent quality.
Damen's focus on standardisation, modular construction and keeping vessels in stock leads to short delivery times, low 'total cost of ownership', high resale value and reliable performance.Furthermore, Damen vessels are based on thorough R&D and proven technology.
Damen offers a wide range of products, including:tugs, workboats, naval and patrol vessels, high-speed craft, cargo vessels, dredgers, vessels for the offshore industry, ferries, pontoons and super yachts.
For nearly all vessel types Damen offers a broad range of services, such as maintenance, spare parts delivery, training and transfer of (shipbuilding) know-how. Finally, Damen offers a variety of marine components, especially nozzles, (flap-type) rudders, steering gear, anchors, anchor chains and steel works.
Damen Shiprepair & Conversion
In addition to ship design and shipbuilding, Damen Shiprepair & Conversion offers a network of 16 repair and conversion yards worldwide, with dry docks ranging up to 420 x 80 metres.Conversion projects range from adapting vessels to meet today's requirements and regulations to the complete conversion of large offshore structures.DS&C handles 1, 500 repair and maintenance jobs annually.
"Jo"