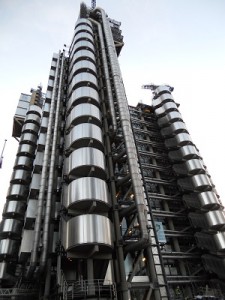 Based in Milan, Vittorio Scala was appointed Country Manager for Lloyd's in Italy last month. He tells us how he hopes his diverse experiences in the Italian insurance industry can help Lloyd's deepen its footprint in his native country.(source: Lloyd's of  London)
What have your career highlights been to date?
I have been very fortunate to have had about as broad an experience anyone could have in insurance, in a relatively short time. Within the last 12 or 13 years I have been able to do commercial, managerial and underwriting roles. Not many people here in the Italian insurance industry have management, technical and sales skills experience –people tend to do one role for their whole lives. Lately having my own company and being able to bring new products to market was also a very interesting challenge. Each of these roles was something new for me, and I was very lucky to have these opportunities.
How different will your role at Lloyd's be?
One of the reasons I accepted the job was it is something totally new, but also a role that requires a lot of the skills I have acquired in my career. It is completely different to my previous roles in the sense that Lloyd's works differently from a company or intermediary – rather than company shareholders, the stakeholders are the members, as well managing agents, brokers and underwriters we represent. At same time, the role requires commercial skills as part of my job is developing new correspondents and lines of business and helping managing agencies to introduce new products. Managing the needs of these various stakeholders also requires management skills.
What business does Lloyd's write in Italy?
Lloyds writes just under €500m (£490m). It is a diverse business; around €350m of that is direct insurance, of which 64% is liability – Lloyd's has a very big name in Italy as an important underwriter for professional third party liability – and the next biggest direct insurance line is marine (12%). Of the €150m reinsurance Lloyd's writes in Italy, around 50% is marine and 30% is property, while the liability reinsurance business is, relatively, very small.
So where, in your opinion are the best growth opportunities?
The first thing to note from these numbers is that Lloyd's hardly writes any direct property business. So o property, for example is definitely one line with a lot of opportunity, as is personal accident and marine business. It's an interesting mix and I believe that there is the potential for significant opportunities to increase the volume of a number of lines of business.
What do you think are the biggest challenges Lloyd's faces in Italy?
Distribution. Unlike the rest of Europe, more than 80% of the Italian insurance market is controlled by agents and not by brokers. There are some very strong Italian insurance companies that have powerful networks of agents who control most of business. Lloyd's works mostly with brokers, so the biggest challenge is to help the Italian brokers and coverholders to grow. We need to support them, give them different, more competitive products and give them efficiency and new electronic tools to compete with the local insurers.
What are your key objectives in your new role?
As a Lloyd's office we have a very important role helping managing agents and underwriters communicate to our correspondents what their specialities, products and innovation are, and we need to be more active in educating correspondents on what Lloyd's does, what its potential is and what kind of business Lloyd's managing agents can write – many of them don't know, for example, that Lloyd's managing agents are leading property underwriters. We also need to improve our efficiency and make it easier for those correspondents to work with us.
How do you spend your time away from insurance?
I have two small kids so try to spend a lot of time with them but I am a motorcycling buff and love to ride motorbikes. I also love sport. I used to play football and I still play tennis and ski a lot in the Italian Alps. I grew up right at the bottom of the mountains, so I went skiing every weekend from the age of four and raced in my youth..
Vittorio Scala
Born in Turin, Vittorio Scala has lived for twenty years in Milan with his wife and two children.
After earning a Masters in International Affairs in the US, in 1994 he joined Chubb Insurance as an underwriter where he held various technial, commercial and management positions, before assuming the leadership of Chubb Italy in 2002.
In 2009 he founded iO Broker, the first Italian insurance intermediary exclusively dedicated to high net worth individuals, before being appointed by Lloyd's in August 2014.