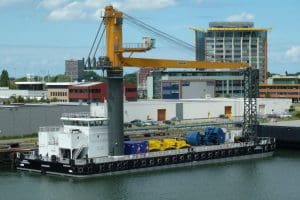 Damen Shipyard Group's new transshipment Crane Barge (CBa) 6324 has got off to a strong start, with an order for the first unit from a client in Uruguay. The barge features the proven Liebherr CBG 350 crane as standard and on this occasion has been outfitted with a unique mooring spread from Vryhof Anchors and Damen Anchor & Chain Factory (AKF).
The fast delivery time for the CBa 6324 is the result of the characteristic Damen approach of customising built-for-stock products to clients' requirements. The standardised 63 x 23.5 metre crane barge is available globally and designed to operate reliably almost anywhere in the world. It has the versatility to handle either dry bulk cargo or containers and can be outfitted with a self-propulsion system.
Customised river mooring system
"The crane barge for our client in Uruguay will be transshipping large quantities of soy or iron ore from barge convoys coming down the Hidrovia Paraná-Paraguai to ocean-going Panamax vessels bound for Europe and Asia, " says Alex Westendarp Knol, Damen's Sales Manager Americas. To be independent from quay operations, Damen worked together with its client and partners to deliver a customised 8-point mooring spread.
"The eight anchors will secure, in pairs, four mooring buoys at the CBa 6324's location in Nueva Palmira, Uruguay, " Mr Westendarp Knol continues. "The first mooring buoy will be used for mooring a convoy of between 12 and 16 barges delivering approximately 30-40, 000 tonnes of cargo. When a Panamax ship arrives, it will moor on the river between the second and third mooring buoys. The CBa 6324 will moor against the ship and travel alongside it to transship the cargo from the convoy barges supplied by a small tug from the first buoy. Once these barges are empty, the same tug will moor them at the fourth mooring buoy ready for a pusher tug to take them up river again."
Vryhof Anchors and Damen Anchor & Chain Factory (AKF) delivered the 8-point mooring spread. Vryhof Anchors was able to very swiftly fabricate the eight 4-ton STEVPRIS® Mk6 anchors, thanks to their experienced personnel and flexible production processes. The Mk6 is capable of holding up to 100 times its own weight. Damen Anchor & Chain Factory (AKF) delivered the eight anchor-chain line assemblies from stock, determining the final lay-out and dimensions in close cooperation with the client.
Handling 20, 000 tonnes per day
The CBa 6324 has onboard accommodation for up to twelve people including a pantry, office and changing room as well as cabins. A central feature of the design of the CBa 6324 is Liebherr's reputable CBG 350 crane. The crane, has a grab load capacity 35 tonnes at 12-36 metre outreach and a hook load capacity of 45 tonnes at 12-36 metres. The crane is expected to be handling approximately 20, 000 tonnes per day using the high quality Verstegen Grabs. One for soy of 31m3 and one for iron ore with a capacity of 10.5m3. A very important feature of the crane is its automatic 'high accuracy' registering system, which measures the total amount transshipped.
Another unique feature of the project is a custom-made 70t, three leg towing bridle for connecting the CBa 6324 to a tug during transportation. The main bridle consists of two 20 metre legs, one 5 metre leg, one triplate and three shackles for connecting the legs by means of the triplate. Damen Anchor & Chain Factory (AKF) manufactured, welded and tested the tailor-made assemblies, witnessed and certified by Lloyd's Register. Each leg integrates stud link anchor chains, common links, masterlink and open endlink.
To meet Damen's commitment to fast delivery at a competitive price, there are around 20 pontoons currently on stock and even more are under construction in Damen supervised yards around the world. Frank Koppelaar, Product Director Pontoons & Barges at Damen, says: "We are continuously developing and building new pontoon and barge types, which we sell from stock to shorten delivery times to weeks and in some cases even days."
About Vryhof Anchors
Vryhof Anchors is a leading international provider of high holding power drag anchors and ancillary mooring products and services to the offshore oil and gas industry. The company was founded in the early 1970s and has six offices worldwide. Vryhof Anchors has delivered more than 10, 000 drag anchors globally since its inception.
About Damen Anchor & Chain Factory (AKF)
From its base in Schiedam, the Netherlands, Damen Anchor & Chain Factor (AKF) is able to deliver both standard and tailor-made chain and/or anchor solutions under Class for both in-house Damen projects and third parties.