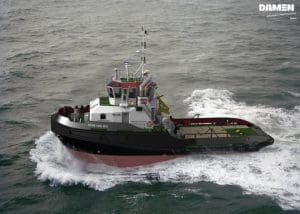 Customised vessels demonstrate capabilities indemanding global markets
Seacontractors has expanded its workboat fleet with three new ordersat Damen Shipyards Group, including the maritime services provider's ninth vessel from the Shoalbuster range, a Damen Shoalbuster 3209. In addition, Seacontractors' order for two Stan Tugs makes it the launching customer forthe new 70-tonne bollard pull STu 3011 design. Extensive customisations increase the multifunctional design's capacity for anchor handling and firefighting.
At a ceremony yesterday in Middelburg, the Netherlands, SeacontractorsManaging Owner XanderSchanssema and Damen Sales ManagerBenelux Jeroen van Woerkum signed the contract for the new vessels. The new orders represent a milestone in Seacontractors' fleet expansion strategy, noted Mr Schanssema, who saw the potential in the new Stan Tug design to increase the company'soffshore oil & gasas well as terminal services capabilities.
"What drew us to the new STu 3011is the wider design – compact with extra space on deck, " he commented. "And we also knew that we could rely on Damen for our pretty demanding list of customisations."
Client specifications for new Stan Tug design
Seacontractors plans to deploy the two new vessels in anchoring handling and terminal works. Following extensive customisation at Damen's new Song Cam yard in Vietnam, the vessels¬– to be named Atlantis and Dian Kingdom- will be delivered in June 2015.
Damen's customisation of the multipurpose STu 3011 into an anchor handling tug includes changing the layout of the aft deck and lengthening the aft part of the vessels by 1 metre to create an open stern with stern roller. In addition, Damen will install a waterfall winch from supplier DMT and a bow thruster. The STu 3011 has capacity for a 15-20-tonne anchor on deck.
"We've put a lot of thought into these vessels, " Mr Schanssema continued, "ensuring they meet the tough requirements set by our clients, particularly in the Middle East. Damen has done a great job for us in developing these customised designs and the end result is worth it."
Range developed with client feedback
MrVan Woerkum says Damen introduced the new STu 3011 design in anticipation of new MLC regulations and to incorporate an efficient 70-tonne bollard pull and wider design with increased stability.
"Seacontractors is the perfect launching customer for us, " he stated. "Working at a high calibre and well known in the industry, Seacontractors is an important customer for Damen."
In future, Damen plans toengineer standardised options for anchor handling and firefighting into the next STu 3011 vessels built for stock. These additional capabilities broaden the wide range of benefits in this new tug type while ensuring short delivery times.
Shoalbuster fleet expansion
Seacontractors' new Damen SBu 3209, to be named Sea India, is the first Shoalbuster in the existing fleet equipped with FiFi-1 fire fighting. As well as additional engineering, Damen Shipyards Hardinxveld is supervising the customisation of the vessel from stock at Damen Shipyards Sharjah in the United Arab Emirates (UAE).
Damen expects to deliver the vessel in November.
Damen Shipyards Group
Damen Shipyards Group operates 32 ship- and repair yards, employing 8.000 people worldwide. Damen has delivered more than 5.000 vessels in more than 100 countries and delivers approx. 180 vessels annually to customers worldwide. Based on its unique, standardised ship-design concept Damen is able to guarantee consistent quality.
Damen's focus on standardisation, modular construction and keeping vessels in stock leads to short delivery times, low 'total cost of ownership', high resale value and reliable performance. Furthermore, Damen vessels are based on thorough R&D and proven technology.
Damen offers a wide range of products, including: tugs, workboats, naval and patrol vessels, high speed craft, cargo vessels, dredgers, vessels for the offshore industry, ferries, pontoons and super yachts.
For nearly all vessel types Damen offers a broad range of Services, such as maintenance, spare parts delivery, training and transfer of (shipbuilding) know-how. To complete, Damen offers a variety of marine components, especially nozzles, rudders, anchors, anchor chains and steel works.
In addition to ship design and shipbuilding, Damen Shiprepair & Conversion offers a network of 16 repair & conversion yards worldwide, with dry docks ranging up to 420×80 metres. Conversion projects range from adapting vessels to today's requirements and regulations to the complete conversion of large offshore structures. DS&C handles 1, 500 repair and maintenance jobs annually.
"Jo"