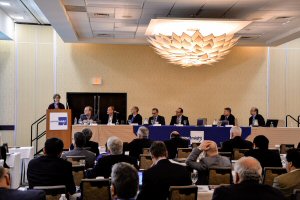 Three Days of Speakers, Panels, Roundtable Discussions, Exhibits and Networking Events 
NORFOLK, Va. – Oct. 14, 2014 – (Marine NewsWire) More than 150 shipping industry professionals from around the world gathered this month in Stamford, Conn., for SHIPPINGInsight 2014 – the premier technical and ship operations forum for the maritime industry in North America.
The annual SHIPPINGInsight event, held Sept. 30 – Oct. 2, encompassed three busy days of presentations, discussions, debates and networking. Participants represented a cross section of all sectors of the shipping industry – shipowners, ship managers, classification societies, technology suppliers, IT companies, consultants, professional service providers and others.
Highlights of SHIPPINGInsight 2014 included:
155 registered delegates from 10 countries (up 50 percent over 2013)
One-day dedicated Marine LNG Symposium followed by two-day Fleet Optimization Conference
30 exhibitors (up 50 percent)
25 industry sponsors (up 150 percent)
Four supporting organizations
28 senior executives from major shipping companies (up 40 percent)
Three keynote speakers
Three guest speakers
64 panel moderators and speakers
Nine themed panel sessions
Two open-discussion roundtables of industry experts
14 networking events
Presentation of SHIPPINGInsight Award at gala networking luncheon
"Initial feedback from participants has been overwhelmingly positive, " said SHIPPINGInsight co-director Frank Soccoli. "Post-event evaluation forms reveal high levels of satisfaction with the content and quality of the conference, especially the numerous networking events, which provided an informal atmosphere for shipping company executives to meet and engage with industry technology partners."
Co-director Jim Rhodes observed, "Our vision for SHIPPINGInsight is to serve as a technology incubator for sharing ideas, strategies, best practices and solutions to address the real-world challenges faced by today's shipping industry."
All of the conference speakers and panels were filmed. The videos will be made available free to registered delegates and at a nominal charge for others.
Based on the success of SHIPPINGInsight 2014, the organizers are already starting to make plans to return to Stamford for SHIPPINGInsight 2015. The specific dates and venue will be announced in the coming weeks.
Reactions from Attendees:
"Compelling, finally an event focused on providing shipowners/managers the latest information on actual experience, products and services to optimize fleet performance and compliance while reducing OPEX." – Erny Otterspoor, Vice President and Technical Director, TBS-Roymar Ship Management.
"The SHIPPINGInsight Fleet Optimization Conference and Marine LNG Symposium is well on its way to becoming one of those key industry forums that are a must to attend. It's great to have a platform that is both educational and provides significant quality networking opportunities. We are looking forward to next year's event." – Edward A. Waryas, Vice President, Business Development, Lloyd's Register North America, Inc.
"At the Marine LNG Symposium, the agenda topics captured many aspects across the spectrum. The LNG paradigm shift was covered very well from several expert viewpoints." – John Hatley, Americas Vice President, Ship Power, Wärtsilä North America.
About SHIPPINGInsight
Soccoli Associates LLC, a maritime consultancy, and Rhodes Communications, Inc., an international communications firm specializing in the maritime industry, are co-producers for the SHIPPINGInsight Conferences. Maritime Reporter and Maritime Professional magazines are the exclusive media sponsors.