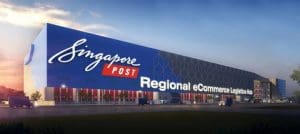 SingPost to develop fully integrated eCommerce Logistics Hub in Singapore, the first such modern facility in the region
Pre-positioning Singapore as the region's leading ecommerce hub
S$182M investment to cater to expanding ecommerce logistics business and address rapid ecommerce market growth
553, 000 square ft hub comprises 3-storey integrated centre with fully automated parcel sorting facility, 2 warehousing floors, 150 simultaneous loading bays and an office block 
Singapore, 14 October 2014 – In line with its vision to be the regional leader in ecommerce logistics and trusted communications, SingPost will be developing a fully integrated regional eCommerce Logistics Hub to cater to its expanding ecommerce logistics business and the fast-growing ecommerce market.
The 3-storey SingPost eCommerce Logistics Hub in Tampines LogisPark will be the first of its kind in Southeast Asia, equipped with state-of-the-art technology. Housing a fully-automated parcel sorting facility on the ground floor, with two modern warehousing floors above, it will serve Southeast Asia and be the connecting point to the rest of Asia. The development will also comprise an adjoining 8-storey office block to house SingPost's local and regional logistics operations i.e. Quantium Solutions, Singapore Parcel and Lock+Store. The Hub and adjacent office building will be built on a 3.25-hectare plot of land leased from JTC Corporation for 30 years.
Construction of the 553, 000 square ft eCommerce Logistics Hub (comprising the integrated centre and office block) is expected to be completed by end January 2016 and fully operational in the second half of 2016.
The estimated development cost for the SingPost eCommerce Logistics Hub is S$182 million and includes lease of the land, construction costs and cost of equipment. The development will be funded internally, from the Group's cash holdings.
Dr Wolfgang Baier, Group Chief Executive Officer of SingPost said: "Given its strategic location and pro-business environment, Singapore is an ideal location for the development of our premier regional eCommerce Logistics Hub.  I expect our new facility will, in turn,  further boost Singapore's aspiration to be the region's ecommerce hub. This Hub is also an integral part of SingPost Group's strategy as we expand our ecommerce logistics business and capitalize on the fast-growing ecommerce market here in Singapore and the region. With this critical infrastructure in place, it will radically transform our full range of ecommerce logistics capabilities, across warehousing, fulfillment, sorting and delivery. It will also enable SingPost to offer very cost-efficient fully integrated efulfilment solutions to our customers in a scalable manner."
The ecommerce market in Asia Pacific is going through exponential growth, with B2C sales expected to hit US$708 billion in 2016 or a 41% increase from 2014's US$502 billion, driven mainly by the rise of the middle income group as well as mobile and internet penetration[1]. In tandem, the ecommerce logistics market in Asia Pacific is estimated to grow to more than US$175.24 billion by 2016[2].
Mr Lee Eng Keat, Director of Logistics, Singapore Economic Development Board said: "We continuously endeavour to strengthen Singapore's position as a strategic location to access the growth opportunities in Asia. The establishment of SingPost's regional e-fulfillment hub will help pre-position Singapore as the leading regional hub for brands and retailers looking to use e-commerce to access the growing markets in the region. Moreover, SingPost's investments in automatic parcel sorting systems and warehousing solutions are in line with our efforts to enhance productivity."
Added Dr Baier: "As part of our growth strategy, we have been strengthening our logistics network in the region and also investing in ecommerce logistics infrastructure, technology and capabilities. As we expand our local market presence in Asian countries with local warehousing and local delivery, we need an efficient regional hub. There is no better place for such a hub
About Singapore Post Limited
(Reg. No. 199201623M)
Singapore Post (SingPost) is the leading provider of mail, logistics and ecommerce solutions in Singapore and the Asia Pacific region, with operations in more than 10 countries.
As Singapore's national postal service provider, SingPost offers trusted communications through domestic and international postal services as well as end-to-end integrated mail solutions covering secure data printing, letter-shopping, delivery and mailroom management, among others. For over 150 years, SingPost has been delivering a trusted and reliable service to citizens, residents, corporations and businesses in Singapore.
As part of its transformation, SingPost has been steadily expanding beyond Singapore, leveraging its regional platform Quantium Solutions and other subsidiaries and partners.  With its regional network and infrastructure, SingPost offers fully integrated ecommerce logistics solutions covering the four areas of freight, customs & regulations management, warehousing & fulfilment, last mile delivery & returns as well as ecommerce web services, to its customers.
SingPost won the World Mail Award for ecommerce in June 2014 and was ranked the top postal agency in the world in an Accenture report. SingPost also gained international acclaim when it was bestowed the Service Provider of the Year 2012 award by Postal Technology International. SingPost is the only company to win to the Universal Postal Union's EMS Cooperative award for its Speedpost courier service every year since 2001.
SingPost's subsidiaries and businesses include:
•   SP eCommerce (http://www.specommerce.com/), an ecommerce enabler that provides brands and retailers with integrated end-to-end ecommerce solutions
•   Quantium Solutions (http://www.quantiumsolutions.com/) specialises in logistics and fulfilment services to businesses within the Asia Pacific region
•   Famous Holdings (http://www.famous.com.sg/), an established freight consolidator and freight-forwarder with a regional presence in 7 countries
•   Lock+Store (http://www.lockandstore.com/), a self-storage operator in Singapore, Hong Kong and Malaysia
•   DataPost (http://www.datapost.com.sg/), the biggest data print bureau in the Southeast Asia region
•   Speedpost (http://www.speedpost.com.sg/), a leading provider for courier service in Singapore and international shipping to more than 200 destinations across the globe
•   vPOST (http://www.vpost.com.sg/), one of the largest online shopping and shipping services providers in Southeast Asia
•   Omigo Marketplace (http://www.omigo.com.sg/), Singapore's online marketplace for consumers to shop and for SMEs and international brands to sell online
•   vBOX (https://www.vbox.com.sg/index.jsp), a digital mailbox with bill payment services which can be accessed anywhere, anytime
SingPost was listed on the Main Board of the Singapore Exchange in 2003. To learn more about SingPost, please visit www.singpost.com.