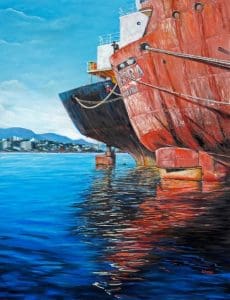 The see, she, sea-factor in the world of arts is what Eva Divaris' work is all about!
For those in Greece and those visiting Piraeus it's worth to visit her latest exhibition at the Piraeus Marine Club at 51 Akti Miaouli, in the heart of the Port of Piraeus.
The private view on Tuesday the 21st of October at 18:00 hrs. The title of her new work is: "The sea colours". The exhibition will be open until Friday the 14th of November 2014.
You all know by now how sensitive we are in the maritime world / industry on the Sea Art and this medium holds the record on this!
Eva, a painter and sculptor does everything on the World of the Seven Seas: sailing racing boats, shipyards, engines, ports, dockers, seafarers to name but a few of her titles. It's almost 13 years since she presented her work at the same venue. Moreover she presented at Posidonia 2010 and 2012 her work on the "Shipyard" and "On the dock" respectively. Her technotropy more than unique!
Don't miss this exhibition from one of the sea-maidens depicting what Greece is best for over ten millennia!
www.evadivari.com  eva.divari@gmail.com