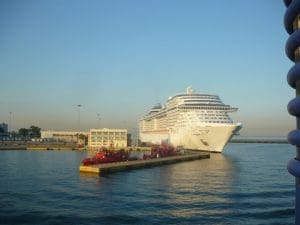 Outlook for cruise shipping remains buoyant, say experts as World Travel Market gets underway,  By James Brewer
Holiday cruising is one of the brightest sectors in the global travel scene, the World Travel Market in London has been told.
Caroline Bremner, head of travel and tourism research at Euromoney, said that the cruise sector had come through the recession strongly, growing 3% to 4% a year, "because of its positioning, its value for money, and the fact that people book one to two years in advance."
Ms Bremner told a press conference on the opening day of the fair that "the cruise operators have really invested in the offering, with ships, upgraded products and entertainment."
Ian Yeoman, a 'futurologist' on the industry, added that the business had benefited from the appeal of cruise holidays to older people.
A report commissioned by the Cruise Lines International Association  in September 2014 said that in the last decade, demand for cruising across the globe increased 77% to a figure of 21.3m passengers.
It said that worldwide, cruise industry expenditures generated $117bn in total economic contributions, supporting the employment of 891, 009 full-time equivalent employees with total wages of $38.5bn.
Nearly 45% of the industry's 2013 global output was generated in Europe, said the report.
Research on behalf of the association by Business Research and Economic Advisers found that in 2013, a total of21.3m cruise passengers embarked, 55% of whom started from North America, including 10.9m who reside in the US.
Meanwhile, the World Travel Market press conference heard that Britain had 33m foreign visitors in 2013, spending a total of £21bn, and those figures were being exceeded in 2014.
The World Travel Market 2014 Industry Report indicated that UK consumer confidence was returning following the downturn, and that holidaymakers were looking to go further afield in 2015. Some 18% of UK holidaymakers are looking to go to the US in 2015, with Florida strongly favoured. Other longhaul destinations cited were Australia, New Zealand, China, Japan, Mexico, Canada and Thailand.
Officials at WTM claim that deals worth around £2.5bn will be concluded or planned as a result of the 2014 industry fair.