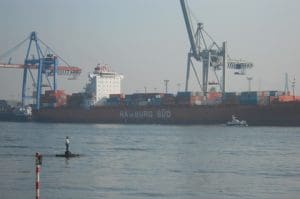 Riverdating & BargetoBusiness : Event entirely dedicated to multimodal and innovative inland waterway solutions
1. Presentation of the event
Riverdating & BargetoBusiness highlight European waterway transport logistics on 19 & 20 November in Luxembourg
The exclusive 3-in-1 event for logistics decision makers providing concrete and useful information about how to use the waterway transport supply chain. Companies share their innovative
business experiences and generate new business opportunities. Recent users present why and how they made the move to transport by water.
The only European event fully dedicated to river transport and logistics, Riverdating and
BargetoBusiness, organised by Voies Navigables de France (VNF) and Inland Navigation Europe
together with the partners of the European Logistics Advisory Network (ELAN), positions itself as
a unique platform for meetings and exchanges between shippers and major actors of the inland
waterway sector.
During the 2012 edition, 600 participants were present in Rotterdam, including 150 exhibitors and
200 shippers, and 4000 business appointments were set up. This year, +500 participants are
expected and a minimum of 3500 business meetings are organised.
Today, the combincation of Riverdating and BargetoBusiness is the only event at a European
scale to promote inland waterway transport as the most adequate solution to new
competitiveness and innovation challenges faced by all modes of transport across the continent.
The event meets three objectives:
– It allows stakeholders to meet and share information on a larger scale,
– It provides logistic suppliers with a forum to showcase their expertise and offer tailor-made
solutions for each shipper,
– It creates opportunities for new partnerships between suppliers and shippers.
After the Netherlands in 2012, Luxembourg will be welcoming the event this year. Geographically
located at the intersection of numerous freight corridors which connect the continent to the entire
river network, Luxembourg naturally holds a central role in the European waterway transport
landscape.
Participants
Participants come from all over Europe, whether current users of inland waterway transport or
not; all sharing one common intention: to increase the performance and competitiveness of their
supply chain by using waterway transport. Some of this year's participants: Airbus, Arcelor
Mittal, Bosch Siemens, Cargill, Comet Sambre, DHL Global Forwarding, Guy Dauphin
Environnement, Nyrstar France, Procter & Gamble, St-Gobain, SITA, Vallourec, Veolia,
Vicat…
Viewers can log on herebelow and read as well as book for this very informative event:
file:///C:/Users/john/Downloads/RD%20&%20BargetoBusiness%20Press%20Kit.pdf