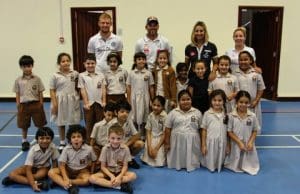 24 November 2014 – Issued on behalf of ISAF – With Olympic heroes and World Champions in their numbers at the ISAF Sailing World Cup Final in Abu Dhabi, UAE, local children are being inspired to take up the sport.
By utilising the star names on show at the ISAF Sailing World Cup Final, the Abu Dhabi Sailing & Yacht Club, hosts of the regatta, are using the event to promote the sport in the Emirati capital.
Sofia Bekatorou and Konstantinos Trigonis (GRE) are two of the most experienced and decorated sailors competing at the ISAF Sailing World Cup Final. Between the pair they have two Olympic medals, seven Olympic appearances and 11 World Championship medals. Impeccable accolades.
The pair are competing in the Nacra 17 at the ISAF Sailing World Cup Final and in advance of competition they visited one of the local schools in Abu Dhabi to tell their story from junior sailing to the heights of the Olympic Games.
One of the principles of Bekatorou and Trigonis' campaign is to inspire youngsters and in front of several hundred children ranging from ages 5-9 they presented their journey from their humble beginnings, "If I can be responsible for making kids go to the sailing club and try then I really feel successful, that is the main thing, " explained Bekatorou. "I used to share my medal because I want kids to feel it and see it so they can be really inspired, the way I was. I was inspired by a poster. I remember Nadia Comăneci and the perfect ten. When I was running in the gym I was looking at this poster and I was thinking, one day I want to be like this. I believe that at some stage, if you're a kid, you get some people who impact you and they can change your life.
"I wish that I can be the reason why some people get in the sea and sail."
Bekatorou and Trigonis subsequently received questions from the children, interacting with them and teaching them about the sport of sailing and hearing about their involvement. The Greek duo recalled their time as youngsters within the sport which Bekatorou now looks back fondly on, "Our inner motivation is mostly to be able to inspire the new generation and show them you are never born an Olympic medallist or a World Champion.
"The principle is, you start having a dream, you see something and you feel you want to achieve it. You need to use the chances you get in life and create chances for yourself in order to follow your dream.
"One of the basic things today with the kids was that we started at their age when we were 8 and 9 years old. It was the love of our parents that brought us into the sailing clubs and the fact that we were having a really great time at the club every weekend inspired us and is the reason why we went back and back to have fun."
Bekatorou had the dream of competing at the Olympic Games and achieved the goal at Sydney 2000 where she finished 14th in the Women's 470. Four years later on her home waters in Athens, Greece, she claimed Olympic gold to become the darling of the nation. Four years later she claimed Yngling bronze at Beijing 2008 and with four world titles to her name she is one of the most successful female sailors of all time.
Like Bekatorou, Trigonis also had the Olympic dream and made his Olympic debut at Atlanta 1996 where he finished 11th in the Men's 470. He claimed eighth at Sydney 2000 and 18th at Athens in the Men's 470 before making the switch to multihulls and campaigning in the Tornado. A tenth at Beijing 2008 followed before he took five consecutive Tornado worlds medals, three of which were gold.
Bekatorou and Trigonis teamed up at the turn of 2014 and with distinguished careers behind them they will be passing on all they can to encourage young sailors from not only Abu Dhabi, but across the world, "Through our long careers of 25 years with a lot of international competition, the basic line is we got to know a lot of different places and make friends. We feel that every challenge, we can meet what is needed to move forward.
"We are not stopped by difficulties and by things that seem impossible. We really wanted to try and invest our potential and strengths and to try to give our best and our view of sailing.
"If I could compare sailing to other sports I would say the main advantage is that it combines physical ability and conditioning together with a lot of brain activity. It's like playing chess on a field that is always changing with variables.
"You can do it all of your life and it gives you the possibility to adapt to new conditions and try to get the best out of it. As a main concept and an attitude it makes you stronger as a person. That's why we strongly believe that this sport is a very good platform for kids."
The Abu Dhabi Sailing & Yacht Club puts emphasis on getting Emirati children sailing on the Abu Dhabi waters off of the stunning Corniche.
As the children get involved in the sport and progress through the stages they have the chance to represent their school in a series of races across the year. By competing against other schools it encourages school spirit and enhances the sailors' progression.
Since the concept was introduced in 2012 more than 300 young sailors from more than ten schools have participated and grown within the program. Utilising the ISAF Sailing World Cup Final and the Volvo Ocean Race stopover that follows the numbers are expected to rise over the years.
World #1 Laser sailor Tom Burton (AUS), 2010 Women's Match Racing World Champion Kate Macgregor (GBR), London 2012 Olympic gold medallist Mat Belcher (AUS), Beijing 2008 Olympic bronze medallist Bryony Shaw (GBR) and 2013 49erFX World Champion Alex Maloney (NZL) are expected to visit more local schools as the week progresses. With impressive stories behind all of them they will also help to inspire the new generation of UAE sailors.
View the full entry list here. 
"Jo"