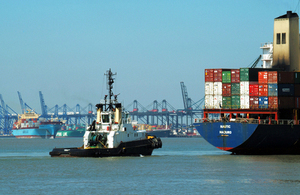 A wide-ranging study that will look at how to boost the UK's multi-billion pound maritime industry has been launched today (26 November 2014) by Transport Minister John Hayes.
The work will look at all aspects of the sector to identify where and how improvements can be made to generate growth.
The study will report in summer 2015 and is expected to make recommendations that could benefit areas including:
ship financing, ownership and operation
maritime education, skills, research and technology
the government administration of maritime activities, including ship registration and other policies
Shipping and ports minster John Hayes said:
The UK maritime sector is a great success story, contributing billions each year to the economy and employing up to 260, 000 people across the country, helping our island nation with daily life, from trainers to the food on our supermarket shelves.
But we should not be complacent. I want to explore all we can do to grow the sector.
The maritime growth study will look to maintain and enhance this achievement by ensuring the maritime sector can succeed in the future. We want to keep the industry at the heart of the government's long term economic plan. A great maritime sector for a Great Britain.
The study will be chaired by Jeffrey Evans, a director at international shipbroker Clarksons and the chairman of Maritime UK, which brings together the voices of the shipping, ports and business service sectors.
Jeffrey Evans said:
I am delighted to have been asked to chair this important study by the government. Britain is a world leader in maritime, but we face increasing competition from abroad.
With world trade set to increase significantly over the next 20 years, it is crucial that we investigate what more can be done to grow this key national asset to secure jobs and economic benefits for the UK.
The UK government works closely with the industry to maximise growth, for instance by investing £15 million to support maritime training for seafarers.
The maritime sector directly contributes up to around £14 billion to the UK economy and directly supports the employment of up to around 260, 000 people. Industry figures suggest the sector could be contributing up to around £32 billion a year to the economy and supporting the employment of up to around 630, 000 people when indirect effects are included.