Culture Shock in Maersk Line: a former executive, Lars Jensen, exposes the tensions behind the scenes at global shipping giant,  By James Brewer
Executives who were archetypal Maersk Line men and women pose a question as they look back over the past decade: what happened to the company I loved? While the company was once populated by entrepreneurial types – young 'country managers' were given autonomy to do what they wanted as long as that delivered  positive results – these days it is under the control of bosses driven more single-mindedly to achieve a better profits bottom line.
Years after they moved on to other employers, many of the 110 people interviewed for the new book Culture Shock in Maersk Line: from Entrepreneurs and Kings to Modern Efficiency by former executive Lars Jensen continue to use the word "we" when talking about Maersk Line. The company, he says, was to them more a way of life than a place to work.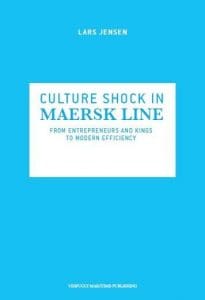 In fact there has been plenty of "culture shock" at the world's biggest container shipping line, as Mr Jensen chronicles in his anatomy of one of shipping's mightiest enterprises. The container line handled without too much stress the 1999 take-over of Sea-Land and Safmarine which greatly increased its size, but there followed the more difficult acquisition in 2005 of P&O Nedlloyd, and at this moment the plan is to achieve $350m in cost savings through the so-called 2M 10-year vessel-sharing alliance with the global number two container carrier, Mediterranean Shipping Co. From early 2015, with a combined 185 ships, the new partnership will command close to 30% of global box-ship capacity.
People at Maersk Line had a few months earlier been bracing themselves for an even bigger line-up dubbed P3 between Maersk, MSC and CMA-CGM, but that plan was quashed by competition regulators in China.  There will still be plenty of service rationalisation, and an end to thoughts of ordering ships of 25, 000 teu, which would have put even today's 18, 000 teu behemoths in the shade.  Mr Jensen will clearly be following up the impact of the new pact in his current role as chief executive of independent market intelligence provider SeaIntel Consulting.
The forthcoming 2M restructure will make his thorough-going analysis in Culture Shock in Maersk Line of 15 years of life behind the scenes at a company that once shunned almost all publicity all the more required and intriguing reading for everyone involved in container shipping.
Mr Jensen's atmospheric evocation of the transformation to what is in effect a new Maersk traces the sometimes abrasive curve from the ethos of a family-owned company to a business that is no longer a cultural fit for some of those who launched their careers there 30 or even 20 years ago. Pressures in the industry and on a wider macro-economic scale have forced the company to adapt to a more ruthless market. This it has done, to a point where several years after the publicised difficulties of adjusting to the P&O Nedlloyd absorption it is now often rated as well ahead of its rivals in service and efficiency.
Many thousands of employees, of their own accord or forcibly, have left the house of the light blue seven-pointed star in recent years. Mr Jensen says that the only similarity between Maersk Line of 10 years ago and today is the fact that it ships containers and is located in the historic Copenhagen street Esplanaden. "Apart from this, everything is different."
Mr Jensen's long and close encounter with Maersk Line, from 1998 to 2010, enables him to chart, in what is said to be the first detailed description of the significant cultural changes there,  the sharp as well as subtle changes in company philosophy.
He recalls the summoning at short notice in December 2003 by the 90-year-old retiring group chairman Maersk Mc-Kinney Moller (who died in 2012) of 50 senior executives to his home near the Danish capital. Mr Moller was handing the torch to a new generation and seeking to instill the company's pronounced values of "our name, uprightness, constant care, humbleness and our employees" by signaling what would be called "value sessions" from 2004 to 2006.
In fact the value sessions were to become the endpoint of the old Maersk culture, and a harbinger of the coming shock of the StreamLINE programme in 2008 when then chief executive Eivind Kolding began lay-offs which extended to 5, 000 employees.
That was goodbye to the Maersk culture in which as long as you stayed within the framework of the company values, you had free rein to pursue solutions and opportunities. This had led to the creation by managers in the field of subsidiary businesses as varied as train companies in Africa, banana plantations, real estate, trucking and lighting equipment.
These managers were the Maersk 'kings' who were focused on optimising their local business and not merely on Maersk Line. Many had joined in the 1990s when Maersk was a small container carrier in a fragmented industry, a perfect platform for the entrepreneurial and decisive people brought in as apprentices and trained through what was known as the Maersk International Shipping Education (MISE) programme, designed to provide a pipeline of leadership talent and spread the company culture. MISE was scrapped in 2008 having been judged a success by many, although its strict ways – locking the classroom doors and firing people who turned up late three times – had angered its young participants.  It was replaced by the Maersk Line Graduate Programme, said to be more attuned to the new culture, with an emphasis on Maersk Line as opposed to the wider group, and restricted to entrants with a graduate business training.
The Sea-Land and Safmarine acquisitions bloated Maersk Line to twice the size of its nearest competitor, and the take-off of freight volumes but slump in freight rates called for action. Out of this came the Starlight strategy which involved defining the core business more closely and making changes which according to Mr Jensen generated internal resistance. Starlight in turn paved the way for the succeeding strategy, codenamed StreamLINE, which led to the P&O Nedlloyd acquisition (despite, we learn, opposition from patriarch Mr Moller), only for the customers to fume that "nothing worked." StreamLINE too had a mixed reception internally, for as one manager remarked, it meant that the 'job for life' concept vanished. StreamLINE had an initial target of cutting the workforce by 3, 400.  In the end, 5, 000 jobs went; and effectively the system of frequent internal job changes which had been an attraction for young managers was curtailed.
Perhaps the biggest culture shock came from the 2009-11 freight market, where plummeting rates socked the container shipping sector as a whole with a $7.2bn loss, and with a net financial $2.1bn debt service obligation.
Maersk Line itself reported a $600m loss in 2011. Chief executive Eivind Kolding, who was seen by some as the personification of the new culture, was replaced in January of the following year… and another project for change, named Clarity, was launched by his successor Soren Skou. There was a lack of clarity until summer 2012, when unit costs came under attack and 400 people were laid off, mostly at headquarters. Senior people were fired in human resources interviews lasting only a few minutes.
Mr Jensen said that Mr Skou replied but briefly to his request for input to the book. Mr Skou wrote: "We are actively working with our culture in order to create a high performance culture in Maersk Line. It is a journey, and even though changes have been made we are not yet where we want to be. Hence it is too early for me to make public comments on our culture."
The global financial crisis is reshaping the dynamics of the industry; and the 'arms race' over vessel size has changed shipping from a service for individual customers to a mass commodity product. The latter phenomenon has not sat well with the Maersk Line self-image of innovation and a penchant for creating new services, argues Mr Jensen. In its search for reinvention, Maersk has become a 'normal' company. It long ago broke away from being a small, niche carrier, and, says Mr Jensen, the new culture will continue to grow in strength.
Culture shock in Maersk Line: from entrepreneurs and kings to modern efficiency is by Lars Jensen. Details of how to order the book are at www.vespucci-publishing.dk