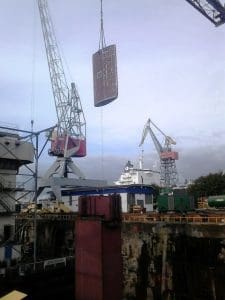 Applied innovative solutions on board MV Tridens
Workers at Maaskant Shipyards, part of Damen Shipyards Group, are proud to be involved in the largest refurbishment job in the history of the Stellendam-based shipyard. Their professional pride may be even greater, since they materialise the project that involve the refit of research vessel 'MV Tridens' (length 73 metre, width 14 metre) owned by governmental shipowner Rijksrederij. The most striking are in the assembly of the latest Simrad sonar and echo sounder within the drop keel and the drop keel itself, and an additional range of innovative applications
Those involved in the refurbishment project did not go on overnight. They went on board the research vessel Celtic Explorer that is deployed in Irish and international waters, researching fish population. The Dutch did this to determine the applications viable to apply on the Tridens, after which it was not just 'copy and past' units to be applied. Quite some calculation has been done to determine the most favourable arrangement of the (sonar) transducers within the drop keel to track shoals effectively.
Drop Keel
Manufacturing and adjusting the trunk – a kind of elevator shaft, in which the drop keel is to be lowered three metres below ship – lasted 27 work days. After that the Simrad units and multibeam for the drop keel and the operator station have to be inserted. Rijksrederij workers has been closely involved in these works.
Maaskant Shipyards does its utmost the have the substantial job done before 2nd March, 2015. By then the research vessel will be equipped with a number of refurbished cabins for the crew, and all propulsion parts will beoverhauled. The shipyard goes into detail when mentioning the regular overhaul of the propeller hub, the OD-box, overhaul of the main engines, the steering apparatus, the stern gantry and winches. The stern mast, booms, a-frame and the corners of the stern of the vessel will be maintained again. A dedicated device has been developed for safely hauling of otter boards, as well. The stern gantry will be replaced completely.
After the midlife conversion, the Tridens is likely to be deployed for survey work, which will make the research vessel multifunctional.
Damen Shipyards Group
Damen Shipyards Group operates 32 ship- and repair yards, employing 9, 000 people worldwide.Damen has delivered more than 5, 000 vessels in more than 100 countries and delivers approximately160 vessels annually to customers worldwide.Based on its unique, standardised ship design concept Damen is able to guarantee consistent quality.
Damen's focus on standardisation, modular construction and keeping vessels in stock leads to short delivery times, low 'total cost of ownership', high resale value and reliable performance.Furthermore, Damen vessels are based on thorough R&D and proven technology.
Damen offers a wide range of products, including:tugs, workboats, naval and patrol vessels, high-speed craft, cargo vessels, dredgers, vessels for the offshore industry, ferries, pontoons and super yachts.
For nearly all vessel types Damen offers a broad range of services, such as maintenance, spare parts delivery, training and transfer of (shipbuilding) know-how. Finally, Damen offers a variety of marine components, especially nozzles, (flap-type) rudders, steering gear, anchors, anchor chains and steel works.
Damen Shiprepair & Conversion
In addition to ship design and shipbuilding, Damen Shiprepair & Conversion offers a network of 16 repair and conversion yards worldwide, with dry docks ranging up to 420 x 80 metres.Conversion projects range from adapting vessels to meet today's requirements and regulations to the complete conversion of large offshore structures.DS&C handles 1, 500 repair and maintenance jobs annually.
"Jo"