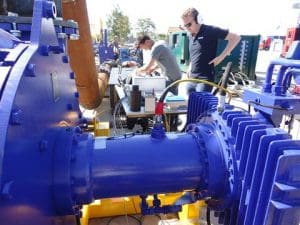 Largest dredge unit available now
The Damen DOP Submersible Dredge Pump range has been enlarged. The DOP-range now runs from the smallest possible DOP150, fitting in any corner of a building pit, to the impressive DOP450L doing 4.000 m3 of mixture per hour.
The DOP submersible dredge pump is a heavy duty pump designed to be used in many dredging activities. It distinguishes itself from slurry pumps or waste water pumps by its robust design.The main part of the DOP is an efficient, wear resistant dredge pump outfitted with cast, easily exchangeable parts. A key feature is the large spherical passage preventing blockage. The impeller shaft is directly driven by a hydraulic motor through a gear box.
This direct drive makes the DOP450L a compact unit. The stand alone submerged dredge pump only requires its hydraulic power. The DOP can be powered by a diesel-hydraulic power pack or by an excavator. Working attached to the excavator boom plugged into its hydraulics makes a simple plug and play dredger.
The DOP450L is the largest true dredge pump which has been designed for submersed use and can be transported and mobilized easily as manageable unit.
About Damen Dredging Equipment:
Damen Dredging Equipment is a specialised supplier of dredging equipment and dredging instrumentation & automation. Fully owned by Damen Shipyards Group and based in Nijkerk, the Netherlands, the companyhas over 70 years of experience in the construction of dredging equipment serving the worldwide dredging industry.The dredging tools are all built to specific customer requirements, making use of a wide range of standard equipment.
"Jo"