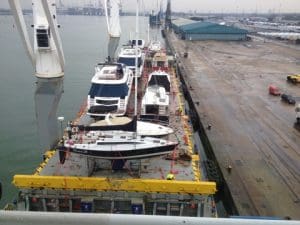 Southampton based global boat transport provider Peters & May is celebrating its best ever month in November, having shipped over 100 boats across 15 vessels in 30 days on its part charter service – a record in the company's history. The vessels, which range from commercial to superyachts, have safely reached locations all over the world including Genoa, Sydney and Dubai, with many others heading to the Caribbean and Fort Lauderdale for the winter season.
The news comes on top of what has already been an extremely positive year for Peters & May. The company has opened three new offices in France, Germany and China, growing its global network in a bid to meet customer demand around the world. As well as this, the company has been investing in equipment and innovative new systems, such as the unique flat rail loading system which dramatically reduces the time needed to load out of gauge cargo.
David Holley, CEO of Peters & May, commented: "This is extremely positive news, reflecting the success of our strategy to be the best in the business. Our dedicated team are true experts in their field and we have worked hard to be one of the only ISO accredited marine transporters in the world. This, combined with our global volume, is why we are recognised as the world leader and are trusted to handle complex logistics for vessels worth millions of pounds. This record month for the business, on top of what has already been a dynamic year, is spurring us all on to realise even greater growth potential in 2015."
In October, it was also reported that Peters & May was continuing its long term support for charity Breast Cancer Clinical Trials with an innovative Pink Lashings campaign which stands to raise £25, 000 for breast cancer research.
About Peters & May
Peters & May has shipped boats, yachts and associated marine peripherals for over 25 years. The company now annually ships over 4, 000 yachts and motorboats worldwide, supported by its numerous complementary divisions which are all designed to provide a complete and exemplary service to the marine industry. Peters & May is the first choice of many of the world's premier race teams, superyachts and manufacturers, in addition to individual boat owners, offering flexible solutions that can be tailored to any logistical challenge. For more information on Peters & May please visit the website www.petersandmay.com