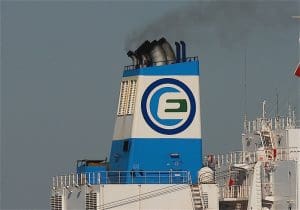 In accordance with the Law of 2 May 2007 relating to the disclosure of important shareholdings in listed companies, Euronav NV announces that it received a notification from York Capital Management Global Advisors LLC, acting as fund manager (with control of voting rights) for several funds, thus disclosing a crossing below the 10% threshold due to a disposal of shares. On the date of this notification, they held 12, 028, 428 shares, for a total percentage of 9.18%.
The notifications received in relation to the transparency legislation are available on the company's website in the investor relations section http://euronav.com/Page.aspx?id=317.
Announcement of fourth quarter results 2014: Thursday, 12 February 2015
About Euronav
Euronav is an independent tanker company engaged in the ocean transportation and storage of crude oil. The
company is headquartered in Antwerp, Belgium, and has offices throughout Europe and Asia. Euronav is listed on
Euronext Brussels under the symbol EURN. Euronav employs its fleet both on the spot and period market. VLCCs on
the spot market are traded in the Tankers International pool of which Euronav is one of the major partners.
Euronav's owned and operated fleet consists of 52 double hulled vessels being 1 V-Plus, 2 FSO vessels (both owned
in 50%-50% joint venture), 27 VLCCs (of which 1 in joint venture) and 22 Suezmaxes (of which 4 in joint venture).
The company's vessels mainly fly Belgian, Greek, French and Marshall Island flags.
Regulated information within the meaning of the Royal Decree of 14 November 2007.