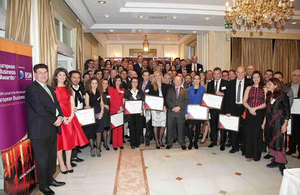 Ambassador highlights UK's policies towards the promotion of an open and effective European economy
"I want to emphasise today the importance the British Government attaches to entrepreneurship within the EU, to the promotion of an open and effective European economy that generates competition, growth and jobs. Our Europe should encourage, appreciate and reward innovative businesses and entrepreneurs."
Ambassador John Kittmer said during an event organised by RSM Greece with the support of the British Embassy and UKTI on 15 January to celebrate the success of 60 Greek firms that will represent Greece as National Champions in the European Business Awards 2015.
The Ambassador underlined the shared challenges of unemployment, deep recession and a still fragile recovery and noted the UK's policies towards the promotion of an open and effective European economy. He then outlined UK's vision for Europe.
Our vision for Europe is clear and simple. We want a Europe that is seeking an ambitious plan for the promotion of free trade (TTIP in particular) in a transparent and outward-looking way; is speeding up the single market so that more effective and innovative businesses get to flourish. Energy, communications and digital economy are equally important to our objectives; is cutting down regulatory burden on businesses and simplifying processes, legislation and bureaucracy.