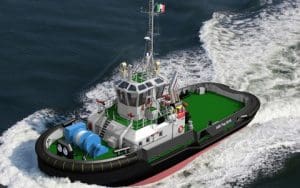 CORIMA, part of the Italian Gesmar Group, which is one of the leading shipowners in the country and the largest towage operator in the Adriatic Sea, has ordered a Damen ASD Tug 2810.
The Damen ASD Tug 2810, which has a 60 tonnes bollard pull, will be deployed in the port of Ancona. With the official signing ceremony taking place on January 12, the new tug is due to be delivered at the end of the year.
Riccardo Vitiello, CORIMA President and Managing Director Gesmar Group, explains the reasons behind the order. "We already have a Damen ASD Tug 3110 and have always thought Damen is a very good, high quality shipbuilder. We were looking for a harbour tug but also one that is suitable for offshore terminal towage."
CORIMA serves two offshore oil terminals (owned by API Refinery) so it wanted a tug with good seakeeping behaviour to be able to operate in open sea. "We have also seen from other Damen 2810 operators that the tug will be able to do over 60 tonnes bp. Coupled with this she is ideally suited for compact harbours."
Additionally, Mr Vitiello says, the company was keen to get an ASD Tug because it believes the ideal towing configuration is having an ASD bow first, at the stern of a vessel, and then a tractor tug at the bow.
With FiFi 1, the tug will be Italian flagged and will be used to replace a twin-screw tug.
Fast delivery
Quick delivery times also attracted CORIMA to Damen. The vessel is due to be delivered before the end of the year. "We know that Damen will completely respect the delivery time."
Pricing was also a factor, he adds. "Damen is one of the best yards in the world for tugs and certainly when considering the lifetime of a vessel prices are competitive."
Andrea Trevisan, Damen Regional Sales Manager, comments: "We are truly delighted to be working with such a renowned and respected Italian shipowner again after 13 years. The Gesmar Group is one of the largest Italian tug owners. At the company's head office in Ravenna several awards for Operational Excellence are displayed, demonstrating the Group's commitment to quality.
"The Damen ASD Tug 2810 is proven in the industry. More than 170 of these compact, powerful tugs are working in ports worldwide. They are known by their captains for their quick acceleration and manoeuvrability. We are sure that CORIMA will be very satisfied with the tug's performance in the port of Ancona."
CORIMA & the Gesmar Group
Based in Ravenna, Gesmar is a family owned harbour and offshore terminal towage specialist serving more than 30 ports and offshore terminals with a fleet of 50 vessels.
Six vessels are deployed in Ancona; four tugs and two anti-pollution vessels for API Oil Refinery and for coastal protection.
The Gesmar Group was founded by Neapolitan shipowner Eduardo Vitiello, who went into the towage business in the early 80s with the takeover of S.E.R.S. which was then supplying tug services in the port of Ravenna.
Gesmar Group provides towage and related services, including harbour towage, offshore terminal towage, ocean towage, salvage and marine pollution control and escort tugs.
The Group, through a number of group companies, provides towage services in eight Italian ports, towage services and safety cover including tanker escorting and fire-fighting at four offshore terminals in Italy. It also provides salvage services throughout the Adriatic Sea and marine pollution control – alone or together with the Castalia Consortium – along the entire Italian coastline (islands included). Gesmar, through StadtSijotransport, a new Group company, has provided harbour and ocean towage in Norway with a fleet of five tugs since 2012.
Damen Shipyards Group
Damen Shipyards Group operates 32 shipbuilding and repair yards, employing 8, 000 people worldwide. Damen has delivered more than 5, 000 vessels in more than 100 countries and delivers some 160 vessels annually to customers worldwide. Based on its unique, standardised ship-design concept Damen is able to guarantee consistent quality.
Damen's focus on standardisation, modular construction and keeping vessels in stock leads to short delivery times, low 'total cost of ownership', high resale values and reliable performance. Furthermore, Damen vessels are based on thorough R&D and proven technology.
Damen offers a wide range of products, including tugs, workboats, naval and patrol vessels, high speed craft, cargo vessels, dredgers, vessels for the offshore industry, ferries, pontoons and superyachts.
For nearly all vessel types Damen offers a broad range of services, including maintenance, spare parts delivery, training and the transfer of (shipbuilding) know-how. Damen also offers a variety of marine components, such as nozzles, rudders, anchors, anchor chains and steel works.
In addition to ship design and shipbuilding, Damen Shiprepair & Conversion has a worldwide network of 15 repair and conversion yards with dry docks ranging up to 420 x 80 metres. Conversion projects range from adapting vessels to today's requirements and regulations to the complete conversion of large offshore structures. DSC completes around 1, 500 repair and maintenance jobs annually.
"Jo"