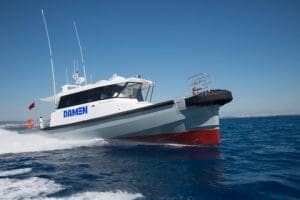 Damen Shipyards Group will launch a composite Fast Crew Supplier 1605 to the market in February. Built at Damen Shipyards Antalya in Turkey, the Group's specialist composite yard, the Fast Crew Supplier 1605 FRP(Fibre Reinforced Polymer) is an addition to Damen's highly successful aluminium 1605 range, 70 of which have been sold over the years.
The FCS 1605 FRP has the advantage of being very light and extremely strong because of its composite construction and waterjet propulsion and this means that the vessel can reach a speed of 29 knots.With a capacity for 12 passengers, the new 16 m vessel provides high levels of comfort because seats are positioned more aft and it has a spacious deckhouse and good all-round visibility.
The new vessel can be delivered in a crew or patrol boat layout and because composite building facilitates standardised, series building, the vessel is a cost effective option for customers.
Additionally, as it is manufactured from FRP, the vessel is not subject to corrosion and is easy to maintain.
The first vessel of the new composite series – DMS Swift – has already joined the fleet of Damen Marine Services (DMS). Special attention has been given to the vessel's ability to work in extreme temperatures – both air and sea. After an extensive test and trial programme the DMS Swift is nowready for worldwide deployment.
Established in 1974, DMS introduces Damen's pioneering workboat concepts and ship types to the market. New vessels are taken under the wing of DMS and customers can charter the vessels for their specific project requirements. Alternatively, vessels can serve as a frontrunner while building a vessel at one of the Damen shipyards. Vessels can be chartered with crew or under certain conditions bareboat charter can also be considered.
More about DMS
Chartering (www.dms.nl)
In order to serve our newbuilding clients and contractors, Damen has been chartering workboats since the seventies. The present charter fleet consists of multi-functional towing/workboats such as Shoalbusters, Multi Cats, barges, survey vessels and high-speed craft for the transport of personnel. The range and type of vessels varies in accordance with new Damen designs and customer demand.
Trading (www.damentrading.com)
Damen Trading is a division of DMS, dealing with the sale, purchase and chartering of used vessels.
Through the years DMS has acquired a lot of experience and knowledge in the brokerage branch, enabling it to offer customers a full service and assistance before, during and after a sale & purchase.