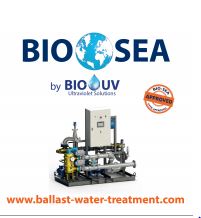 BIO-SEA by BIO-UV has established a partnership agreement with Choice Ballast Solutions (Choice) for engineering and installation of the BIO-SEA Ballast Water Treatment System.
Working in close cooperation with vessel owners, Choice provides system integration and installation for ballast water treatment retrofits from the survey to the sign off. Through this new partnership, BIO-SEA is now able to provide US ship owners with the best technical study according to their technical needs and requirements. Choice is for the American market the official integrator and responsible for feasibility studies and maintenance for BIO-SEA ballast water treatment systems range dedicated to Retrofit projects (modular version) and New Building projects (skid version).
About BIO-UV
The sole and unique French ballast water treatment specialist BIO-UV
designs and manufactures the complete ballast water treatment system BIOSEA,
which combines mechanical filtration and high UV dose disinfection,
without any chemical treatment whatsoever, made with high marine quality
components.
BIO-UV is an innovative industrial company created in May 2000 with a subsidiary in the USA (Delta UV, California). The BIO-UV Group designs, manufactures and markets systems and concepts of disinfection by ultraviolet light (UV-C) adapted to a large number of applications.
The BIO-SEA products are IMO type approved, USCG AMS accepted and USCG
type approval currently in process.
BIO-SEA has equipped many vessels, with reliable, innovative, modular and cost efficient solutions.
About Choice Ballast Solutions, LLC
Founded in 2013, Choice is an engineering solutions and service provider for ballast water treatment systems (BWTS) in the Maritime market sector. Choice provides compliance planning, integration engineering,  installation and aftermarket service and parts. Choice along with key partner Netsco, a naval architecture and marine engineering firm offers more than two centuries of combined in-house experience to the maritime industry.