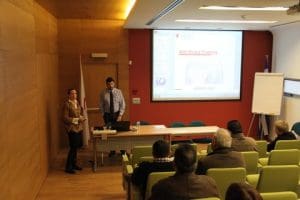 Merchant marine officers and staff of HELMEPA member companies attended yesterday, Wednesday 18 February, the certified by Lloyd's Register Seminar on Piracy, delivered and hosted by HELMEPA's member company Neda Maritime Agency Co. Ltd, at its premises in Piraeus.
With its initiative to offer this Seminar to all members of the association, Neda contributes significantly and enriches HELMEPA's Refresher Training Program for 2015. The topics presented: implementation of ISPS-SSP and best practices for dealing with incidents of piracy and armed robbery on ships, were evaluated as excellent by the participants.
Mrs Maria Christopoulou, Quality & Training Manager of Neda, and also Chairperson of HELMEPA's Training Committee welcomed the participants. Mrs Christiana Prekezes, Executive Coordinator of HELMEPA, during the Seminar's introduction, invited all to observe a minute's silence in memory of N. Dagres, the unfortunate Greek Chief Officer who lost his life during the recent piracy incident on T/S KALAMOS.
The topics were presented by Mr. Christos Kechris CSO/S&Q Officer of Neda and Rear Admiral (Ret) Antonis Papaioannou, Commercial Director of Diaplous Maritime Services.
Neda will host the Seminar two more times during 2015, on 14 May and 15 October.