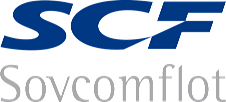 Moscow, PAO Sovcomflot (SCF Group) announces the launch of its new corporate website at www.scf-group.com
Available both in Russian and English, the new website has a contemporary design building upon the strong foundations of the Group's corporate style.
The main design features of the website are the user interface elements including inclined images and design to represent dynamic development. Inclined lines in the menu and section headings are also aligned with original writing of the company's logo.
The intuitive internal structure of the website is focused on the Group's core business, namely, seaborne energy shipping and the servicing of offshore oil-and-gas production. On the website, visitors can learn about the main activities of the Group, for example: the fleet divisions; the company's operational geography; the latest news and press releases.
Great attention has been paid to information disclosure for investors. When developing this section, the world's best information disclosure practices were considered, in order to make access to any required data quick and easy.
The special section for SCF Group's seafarers is also an important component of the website. It contains information about vocational training, the contacts of crewing offices and seafarers' personal forms that can be easily downloaded from the website.
The new Sovcomflot's online portal presents corporate photos and videos showing SCF Group's flagships and routine crew operations, as well as the key projects served by the Group's fleet.
The site navigation is simple and supported by user-friendly visual elements helping to get fast access to the required section. The responsive design makes browsing comfortable on devices of various screen sizes, including tablets and smart phones. The content management system, based on a new Russian-made software programme, facilitates the website administration and helps to use the full potential of present-day Internet technology more effectively. Following current trends, the website offers the opportunity to share information in the most popular social media networks.
"Jo"