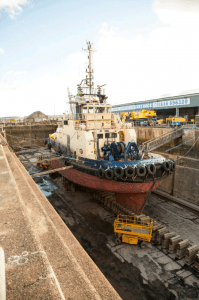 Despite a slow start to the year, Haven Marine Services is now seeing a change in fortunes with two dockings for Svitzer in quick succession, with one vessel sailing after a successful refit and another in on the same tide. This comes after a prolonged period of inactivity at the yard during the last three months due to lack of orders and extremes of weather which resulted in several vessels having to be diverted to other repair facilities due to the fact that they were unable to enter Milford Docks.
Haven Marine has just finished a ten day docking on the Svitzer Surrey which was a significant achievement considering that the vessel was working in the Port of Southampton and had elected to sail to Milford Haven rather than opting for more local yards. No sooner had the Surrey left the confines of the dry dock, than another Svitzer vessel, the Portgarth entered for a 15 day docking.
Joint Managing Director Brian Summons said, "We are encouraged by the upturn in business with these two vessels and we have several others booked in over the forthcoming months and many specifications to price up. The reputation of the yard has suffered greatly during the past year due to the collapse of Mustang Marine (Wales) Ltd and we have had to work hard to restore that reputation with vessel operators and ships agents who had initially thought that the facility had closed down for good."
Steven Arnold added, "We have enjoyed a close relationship with Svitzer over the years and are grateful for their continued support in promoting this facility to their superintendents throughout the UK. We currently have people travelling throughout the UK in an attempt to encourage other vessels to use the facility, which is part of our long term strategy to develop a long term and sustainable business, which we believe is critical to the area, especially now in light of the situation with the Murco refinery and the decision not to proceed with the South Hook CHP project."
Haven Marine Services General Manager, Jeff Mills commented, "Haven Marine Services management and employees have been servicing the requirements of the shipping industry and associated terminals in Milford Haven for many years and . Our long term participation in the ship repair industry has given us unrivalled experience and the expertise to handle a broad range of project work, from supply of minor items to full blown repair specifications."
Further schedules dockings, include the tall ships, Kaskelot and the Jubilee Sailing Trust's Tenancious, both of whom have visted the yard previously.
About
Haven Marine Services Ltd is a joint venture between two prominent Milford Haven business men, Brian Summons of BDS Contracts (Milford Haven) Ltd and Steven Arnold of Port Engineering Ltd.
The company was formed as a result of the collapse of Mustang Marine (Wales) Ltd in 2014, with the aim of retaining and securing the future of the ship repairing facility at Milford Docks.
BDS Limited has become recognised as one of the leaders in the field of surface preparation using specialist techniques such as grit and garnet medium blasting, vacuum blasting, wet blasting, blast track and ultra high water pressure systems. Coating application methods include airless spraying units, hydro-cat systems and brush/ roller.
Port Engineering was founded in 2005 with the aim of providing high quality welding and engineering services to marine and land based companies located on and using the Milford Haven waterway.
Both BDS Contracts & Port Engineering have a long association with ship repair on and around the Milford Haven Waterway, having both been long term subcontractors for Milford Haven Port Authority and their reputation has also enabled them to undertake similar work throughout the UK and abroad.
"Jo"