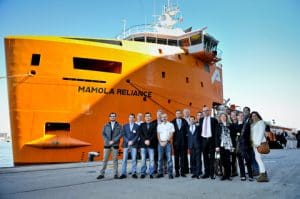 Promar Shipping Services has christened the first of two Damen PSV 3300 vessels built at Damen Shipyards Galaţi in Romania. The Mamola Reliance will operate on the West African oil and gas market, where her high quality design will offer flexibility and a competitive edge.
Following the official handover on 23 February, the Mamola Reliance set sail for West Africa. En route she stopped off in Barcelona for her naming ceremony. The ceremony was attended by Promar's CEO, Bertrand Prezioso, CFO, Olivier Utz and COO, Christophe Mansuy.
Damen Sales Manager Andrea Trevisan also attended the ceremony. Speaking of the project, Mr Trevisan said, "The delivery of the Damen PSV 3300 Mamola Reliance is a moment that has been keenly anticipated by both Damen and Promar since we embarked upon this project. This vessel represents the onset of a new generation of pioneering, high-quality PSVs operating in the West African market."
Lennart Samsom, Damen Project Manager Offshore and Transport, said that the building of the vessel demonstrated an excellent synergy between Damen and Promar. "We have built the Mamola Reliance in close cooperation with the Promar team. They have been involved from the design phase right up to the construction at Galaţi. The cooperation has been professional and open throughout."
Mr Mansuy concurred, saying of the cooperation between the two companies: "Our collaboration with Damen has been very fruitful. The Mamola Reliance is a high standard PSV at the forefront of technology. Damen will also be delivering the sister ship, Mamola Defender, that is due in August 2015 and this is certainly to be regarded as a sign of confidence. We're very satisfied with the quality Damen has delivered to date, and we express our gratitude to all project contributors."
Damen's relationship with the Mamola Reliance has not ended with the handover; Promar has selected a Damen Services initial spare parts package based upon Promar's operating profile. RinkeWesseling, Damen Area Services Manager, said, "Both companies know that it is crucial to have the right spare parts when you start operating a vessel. This leads to correct and timely maintenance and increased vessel uptime and performance."
The vessel's high standard specifications will provide a decisive advantage on the West African market, as Mr Trevisan pointed out: "The Mamola Reliance has been designed and built to fulfill the stringent requirements of first class oil majors. She features a broad package of options and is SPS compliant. With such notation the vessel can safely carry an additional number of personnel, meaning that Promar can offer their clients additional flexibility. We wish Promar every success with the Mamola Reliance."
Damen Shipyards Group
Damen Shipyards Group operates 32 shipbuilding and repair yards, employing 9, 000 people worldwide. Damen has delivered more than 5, 000 vessels in more than 100 countries and delivers some 160 vessels annually to customers worldwide. Based on its unique, standardised ship-design concept Damen is able to guarantee consistent quality.
Damen's focus on standardisation, modular construction and keeping vessels in stock leads to short delivery times, low 'total cost of ownership', high resale values and reliable performance. Furthermore, Damen vessels are based on thorough R&D and proven technology.
Damen offers a wide range of products, including tugs, workboats, naval and patrol vessels, high speed craft, cargo vessels, dredgers, vessels for the offshore industry, ferries, pontoons and superyachts.
For nearly all vessel types Damen offers a broad range of services, including maintenance, spare parts delivery, training and the transfer of (shipbuilding) know-how. Damen also offers a variety of marine components, such as nozzles, rudders, anchors, anchor chains and steel works.
In addition to ship design and shipbuilding, Damen Shiprepair & Conversion has a worldwide network of 15 repair and conversion yards with dry docks ranging up to 420 x 80 metres. Conversion projects range from adapting vessels to today's requirements and regulations to the complete conversion of large offshore structures. DSC completes around 1, 500 repair and maintenance jobs annually.
"Jo"