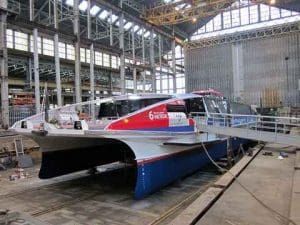 Turks Shipyard and Burgess Marine partnered this month to offer a one-stop-shop for ship repair and marine engineering excellence on the River Thames.
Turks dry dock and slipway is located in Chatham Historic Dockyard, which measures 110m by 15.2m with a 3.5m draught, with a newly installed 600 tonne winch system and a fully undercover facility; ideal for a number of vessels and those wishing for a more tailored technical service without the hassle.
Both Richard Turk – MD of Turks Shipyard – and Nicholas Warren – MD of Burgess Marine – believe the customer comes first and wish to offer the Thames community, and those visiting, a reliable service which they truly deserve and can depend upon.
Nicholas Warren comments: "Richard has a superb facility here in Chatham; he's built a great business in the ideal location.
"Our aspirations are to support this business further – we can provide technical management, coded steel and aluminium welders, electricians and hydraulics engineers as well as marine fitters. We look forward to working with Richard and seeing how things on the Thames develop."
By working in partnership the two companies can offer owners peace of mind for a smooth, reliable and timely dock with crystal clear project management and clearly defined quotes with no hidden extras.
Backed by a combined 400 years' ship repair experience, warranties, guarantees and insurances, it means Turks is the ideal choice for many.
"Jo"