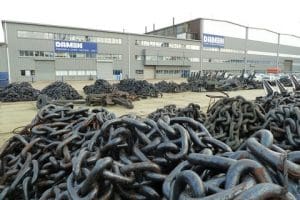 Damen Anchor & Chain Factory completes first online sale
Damen Anchor & Chain Factory (AKF), in the Port of Rotterdam, has successfully completed its first online order transaction. Much of the Damen product range has enjoyed an online enquiry option for some time, though AKF is relatively new to the concept. With Damen's online presence growing constantly, there is a strong potential for future web-based commercial growth.
Theo Kloosterman, AKF Manager, explains how the order was swiftly brought to fruition. "It started on February, Friday 13th – a lucky day, " he quipped. "An enquiry came in at the end of the day, asking if we could supply 300metres of chain and associated components."Mr Kloosterman quickly confirmed availability of the required products and, by the following Monday, had put together a quotation for the client – a yacht repair specialist based in Portugal.
"The client also sent us some pictures of their anchors, so we were able to advise them on product specifics and fine-tune the order to suit their exact requirements. The total delivery was twelve lengths of 16mm Grade U2stud-link anchor chain each measuring 27.5 metres, fourteenkenter shackles, two swivel forerunners, two 3-link adapting pieces, two D-type anchor shackles and two crown shackles, altogether weighing in at 1, 780kg."
Online enquiries
Only recently AKF began to offer an online enquiry option – following the rest of the Damen product range, which had started to do so 3 years previously. The web-based process is demonstrating clear growth for Damen as a whole according to the company's online marketing and social media specialist Björn Smets.
Mr Smets states that currently, each day brings in strong, qualified online leads. "Online activity has more than tripled since we started, " he says, pointing out that more clients are now aware that they can find Damen products online, thanks to ongoing website development and a robust social media campaign. Damen sees leads coming in from many countries and for many different vessel types.
New business
Damen's online presence has often led to the generation of new clients, including the sale of a Fast Crew Supplier 2610 vessel to a UK-based company that Damen had not previously worked with. "Online leads can generate whole new relationships – people just have to be able to find you, " says Mr Smets.
As a result, Damen products are easier to find and experience by individual visitors. "This makes it very easy for people to find exactly what they are looking for, says Mr Smets"
Recently, the user-friendliness and high success rate of www.products.damen.com earned Damen a coveted award. The company, along with their website partner, Evident, won the Business Transformation category of the Benelux Sitecore Experience Award 2014. The company's online catalogue is constantly evolving and Mr Smets says that, in future, visitors will enjoy an even more personalised experience.
Justthe beginning
With regards to AKF, Mr Smets is also confident that this is just the beginning for online-generated sales. "In the last few months we've seen quite some leads coming in for AKF and I think this product range is particularly well-suited to online sales as it is easily transportable. This is certainly not a one-off event."
Damen Shipyards Group
Damen Shipyards Group operates 32 shipbuilding and repair yards, employing 9, 000 people worldwide. Damen has delivered more than 5, 000 vessels in more than 100 countries and delivers some 160 vessels annually to customers worldwide. Based on its unique, standardised ship-design concept Damen is able to guarantee consistent quality.
Damen's focus on standardisation, modular construction and keeping vessels in stock leads to short delivery times, low 'total cost of ownership', high resale values and reliable performance. Furthermore, Damen vessels are based on thorough R&D and proven technology.
Damen offers a wide range of products, including tugs, workboats, naval and patrol vessels, high speed craft, cargo vessels, dredgers, vessels for the offshore industry, ferries, pontoons and superyachts.
For nearly all vessel types Damen offers a broad range of services, including maintenance, spare parts delivery, training and the transfer of (shipbuilding) know-how. Damen also offers a variety of marine components, such as nozzles, rudders, anchors, anchor chains and steel works.
In addition to ship design and shipbuilding, Damen Shiprepair & Conversion has a worldwide network of 15 repair and conversion yards with dry docks ranging up to 420 x 80 metres. Conversion projects range from adapting vessels to today's requirements and regulations to the complete conversion of large offshore structures. DSC completes around 1, 500 repair and maintenance jobs annually.
"Jo"