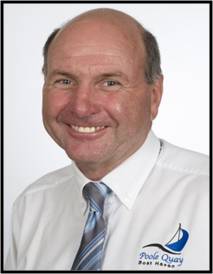 The Yacht Harbour Association (TYHA) is delighted to announce that Poole Quay Boat Haven and Port of Poole Marina, both owned and operated by Poole Harbour Commissioners (PHC), have gone the extra mile to meet stringent industry standards and be awarded with the prestigious five Gold Anchor status.
The Gold Anchor award scheme has been auditing marinas throughout the world for over 25 years and is well known as a credible measure of marina excellence. One Gold Anchor is self-assessed and awarded to a marina that complies with the infrastructure guidelines as set out by TYHA. Two to five Gold Anchor awards are assessed by industry experts and awarded on the basis of the breadth and quality of facilities and the level of customer service.
Based in Poole, Dorset, the marinas have had to undergo a series of rigorous tests in order to qualify for the award. This included a comprehensive marina audit which is checked and surveyed by a marina expert, mystery shops to test first impressions and customer service, and questionnaires completed by existing berth holders at both locations on their experience of the facilities and customer service they receive.
John Binder, manager of Poole Quay Boat Haven & Port of Poole Marina, said: "They are both one of 86 marinas with the full five anchors and it is testament to the quality of management in place. With more than 141 marinas taking part from across 26 countries, this stands as a sign of lasting success on the part of PHC and the high regard held by our berth-holders.
John added: "This award has arrived at an ideal time, with PHC's Poole Harbour Boat Show being held at Poole Quay Boat Haven over the weekend of May 9 and 10. The free event will bring together a variety of marine-related businesses and family-focused entertainment."
Jon White, General Manager of The Yacht Harbour Association said: "Poole Quay Boat Haven together with Port of Poole Marina have gone over and above the expected service to be awarded with five Gold Anchors. The scheme is a great way of highlighting high quality facilities and excellent customer service, and the rating goes a long way in influencing potential berth holders. It is important for the industry to automatically be looking to see if a marina has Gold Anchor status when making berthing decisions."
Find out more about Poole Quay Boat Haven www.poolquayboathaven.co.uk. Details of the specific criteria from TYHA can be found by downloading the Gold Anchor information pack here.
The Yacht Harbour Association is an association within the British Marine Federation (BMF) , the trade association for the leisure, superyacht and small commercial marine industry
The Yacht Harbour Association (TYHA) was established to support and develop the marina industry according to the needs of UK and International members.
TYHA supports its membership by networking the industry together, setting industry standards and measuring marinas against them. Working with complimentary, industry bodies helps to promote and support its members.
·        The association provides services to 475 members based in 26 countries globally listed onwww.whichmarina.com